Editorial: How do I say goodbye
November 18, 2023
By Marcy Shortuse
"Never say goodbye because goodbye means going away and going away means forgetting." J.M. Barrie
When I first came to Boca Grande in 1978, I was in third grade. It immediately became one of my favorite places on earth, and I realized a new dream then – to live and work here. I was blessed to have that dream come true. As I write this I realize that I have lived here longer than anywhere else, including my hometown in Illinois.
My grandparents were already here as snowbirds in 1995. When I moved down permanently, my aunt and uncle and cousins were on Marco Island full-time, and my mom moved down here shortly after I did. I met my husband here, and we have raised five children and many dogs on the Cape Haze Peninsula, two years in Boca Grande.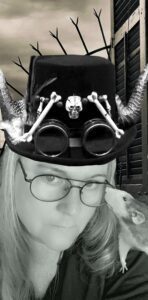 Boca Grande and the Peninsula are beautiful, there's no doubt, but as time has gone by it has become apparent that it's the people here that have made me love it so. Since my start at the Gasparilla Gazette in 2003, to my transition to the Boca Beacon in 2007, now, almost 20 years later, I guess I've come full circle back to the cold North.
My family will be moving to Aroostook County, Maine at the end of November. I don't know what's next, but that's nothing new. I haven't known what's next for a single day of my life since the storm. I'm a problem solver at heart, but this is one problem I haven't gotten ahead of … and can't.
From one temporary housing location to the next since September 28, 2022 (just like a lot of you), in each place I have left a little piece of my heart. Even the annoying hotel stays have left me with some good memories, as we have become closer through sheer proximity and need for the comfort of family.
But leaving this little island? I have left so much of my heart here, I feel like there's very little left. I have a physical ache when I think of leaving here. There are so many people I will miss, so many sights I fear I will never see again. From my dear friends I have to leave to seeing "my" (OK, she's part Ruthie's) cow, Pearl, at the cow farm I passed every day to go to work and take the kids to school when they were still attending The Island School… it's hard to bear when I think we won't see Pearl and the others in the field and all yell "MOOOOOOOO."
I have more acquaintances than close friends here, but even those of you I don't know well are like an extended part of my diverse (and maybe a little dysfunctional) family. I love you all for that.
I did just about everything I could to try to find a way to make it work here, I'm not ashamed to tell you that; but sometimes the universal signs all point the same way … toward another path. Oh, how I wish it could be another way, because this isn't a place you can just come back to … or ever forget.
It's hard to say where I truly belong now. Maybe I've always been a little out of place here, in my uniform of jeans, T-shirt and tennis shoes that I wear every day, but a long time ago I gave up on competing with other people. I do my thing: I'm just me. That's all I can be. I prefer to be judged by my character or humor or intelligence, not so much what I'm wearing (technically, y'all are lucky I remembered to wear pants every day I was here).
Here I have found a kinship with people I never expected to – you could say I have "friends in high places." Those are the people who continue on with the Boca Grande traditions that we lose more of every year. Never forget what made this island such a popular place with everyone – rich and not-so-rich – was the easy relationships a millionaire could have with a mullet fishermen. Everyone used to live in harmony here in this tiny place, in part because this was the only place where a lot of people could get some peace. No one really cared how much money someone had, just how kind they were, or how funny, or thoughtful.
I know it's changed, but that feeling isn't totally gone. I hope you all understand how important it is to keep that tiny flame alive. This isn't Palm Springs, or Nantucket, or Hilton Head (as they say in Maine, you can't get thea from heah). This is Boca Grande. We do things differently here. We like simple pleasures – barefoot sunsets, dogs, golf cart rides, a game of horseshoes with friends – and we want to love one another like family. Boca Grande isn't about impressing people with money or status, or how big a house is. It isn't about fake smiles or arrogant masks to hide behind. This place is all about a "live and let live" philosophy, and the ability to be yourself is a big part of that.
For those of you who have kept it real, who have kept to Rule #17 and spread the love … a million times over, thank you. Marnie Banks, the founder of this newspaper and another true lover of this island, was a believer in keeping it real, and I have tried to honor that through the 16 years I have sat at her old desk. Our names are close to the same, our birthdays are the same and, I do believe, our spirits are quite the same.
I'll be in the office until November 24. After that I'll be around for a few days, but probably not many. If we're friends on the Book of Faces, keep in touch. Otherwise, send me a note at mshortuse@gmail.com. I'll be up there shoveling snow and eating potatoes, but I'll take some time to check my email.
I sure will miss you guys. I love every one of you.
Marcy Shortuse was the editor of the Boca Beacon. She can still be reached at mshortuse@gmail.com.
---