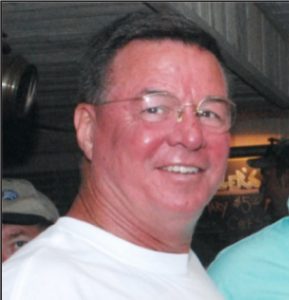 To the Editor:
Hello, I  am Chris Grilo, U.S. Army. I am serving in Kabul, Afghanistan right now. I live and have family in Port Charlotte (Murdock area). I moved from Hicksville, New York (Long Island) in 1986 and finished high school at Port Charlotte High, Class of 1988 and joined the Army in late 1990. I have nine deployments – eight overseas and five combat tours – and was deployed to South Florida in 1992 after Hurricane Andrew.
I would like to express condolences for Mark's passing to Kathy and his family, and also share the memories of the times I knew Mark. I met Mark during the 2016 election when he was running for Airport Authority. He was very informative about Charlotte County and the airport (PGA), and the history of Boca Grande and Englewood area. He took me out a few times on his boat to show me Boca Grande from the boat view. He took me to Useppa Island, it was amazing to see such a beautiful place. He was an amazing person, how his flying career allowed him to meet many famous people and take them fishing in Southwest Florida.
When I was in town I would give Mark a call to say hello, and he would always offer to go out on a boat. Sometimes he would return my call to say he was sorry he missed me.
In November 2016 I was home for the holidays and also to attend the NASCAR championship races in Homestead-Miami. I got the tickets and planned to meet with family and friends that come down from New York to go the races. That year they couldn't make it. I had the tickets, but wasn't looking forward to driving across the state from Port Charlotte to Homestead by myself. While I was home I asked a few friends if they wanted to go to the races, but they weren't fans, or it was too far to go at last minute. Still planning to go, I was talking with Mark and told him I had tickets for the NASCAR championship races in Homestead, if he would like to go. He said sure, to see Jimmie Johnson go for his seventh championship would be history. I said yes, it would be. When I said the drive would take five or six hours he said, "Drive, what, you crazy? We will fly, it's only a short flight."
I was shocked. FLY? To where?
Mark said we would fly into Homestead Airport, a small airport near the track. How Mark expressed it, to him it was like going for ride to the store.
When the day came I met Mark at his hangar at Punta Gorda Airport, with one of his friends that was going too, since I had extra tickets. We pulled the plane out of the hangar, loaded the plane, and he did his preflight checks. We taxied over to the gas pump, filled the tanks with fuel, then taxied for takeoff. Mark radioed the tower and we were off. I was just in awe that we were flying to Homestead, I was looking out the window seeing the Southwest Florida coastline, and once we got to Naples we made a left and were then flying over the Everglades. That was something, totally amazing.
Soon as you know it we were on approach to land at Homestead Airport. We landed and parked the plane near a small jet (we found out the jet we parked next to belonged to Carl Edwards), then went to the office to see if they had a rental car. They had one, and soon we were off to the speedway. It was a great time nice weather. had nice seats and watched Jimmie Johnson win his 7th Championship. We were excited to witness history, to see a driver match the record of Richard Petty with 7 championships. As we celebrated with everyone else there. we had to cut it short. It was a fast race no delays, finished around 830pm We had to fly back to Punta Gorda. I was like O' No fly at night in a small plane over the Everglades. We took off around 930pm. As I looked out into darkness over the everglades know its swamps down there with gators.I saw the lights of Naples
then we made right turn and headed for Punta Gorda. Mark radioed tower , we were landing in Punta Gorda and it was around 10:45 p.m. we taxied to hanger unloaded pushed the plane in hanger. That was some trip. When ever I spoke with mark days followed he was excited that we saw history made.
It was Mark was a great person, caring for all. I liked know he was a friend and he thought of me as a friend too. When I get back to Port Charlotte I hope get ahold of his wife Kathy. I give here something in Honor of Mark.
Mark is Flying with the angels, he has his wings.
He will truly be missed,
Christopher Grilo