Will the shrimp boat ever be in again?
January 12, 2023
By Marcy Shortuse
A look at what happened to the Capt. C.J.
It seems like almost every day brings us another reason to get really grumpy with the aftermath of Hurricane Ian. Just when it seems like your back hairs aren't crossed any more, along comes something else to raise your hackles again.
The loss of the Capt. C.J. shrimp boat is one of those things. You remember, back in the day, when you would see across social media one phrase that would make everyone on the Cape Haze Peninsula sit up and take notice.
"The shrimp boat is in."
That meant that the Capt. C.J., with Capt. Mike Bigler at the helm, was at Whidden's … and that there was good, fresh shrimp on board. He had come to Whidden's since 1989, if you can believe that. The line was long sometimes, almost down Whidden's driveway. The procurement of Capt. C.J. shrimp was a milestone in many people's weeks, in many family's vacations. 
So when the Capt. CJ Facebook page announced that the sacred shrimp boat was sunk off the coast of Matlacha, the heartbreak throughout Charlotte Harbor, Pine Island, St. James City and beyond was palpable. Part of her was in the bay. Part of her was in the mangroves. Ian chewed her up and spit her out.
Eventually a Go Fund Me page was created, as there were so many who wanted to donate to the Bigler family but didn't know how. Between that site and social media, the response was a wave that really seemed to knock the Bigler family off their feet.
It was tremendous. Each day since the hurricane, dozens of posts would come in with kids, dogs, videos, from years ago to current, all featuring the Capt. C.J.
It is almost a cult following. But a good cult.
"She may be gone but she won't be forgotten!"
"We are so deeply sorry for the loss of this beauty, yet so grateful to be able to have become friends with Mike Bigler and enjoy our time admiring her and listening to his endless stories."
"My last Capt. CJ sunset. Love you, Biglers!"
"I shed another tear on each on every sacred snapshot. She definitely grabbed our hearts. Dammit, Ian."
Those were a few of the sentiments with every photo posted; there were many more like them. It becomes apparent that people didn't just come for good eatin' shrimp … they came for the entire experience that was the Capt. C.J.
On the Go Fund Me site Courtney Bigler, Capt. Mike's daughter, wrote, "If you know my dad, you know his biggest pride and joy was his shrimp. For the last 40 years my dad and brother, Jason, (20 years) have dedicated themselves to providing the freshest and most delicious shrimp to Matlacha and Boca Grande. The last three months my dad was working nonstop to replace the winch on the boat. He was eager to get back out and do what he loves to do.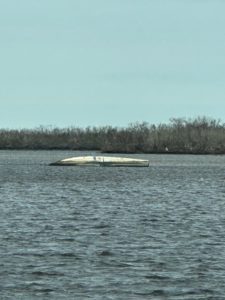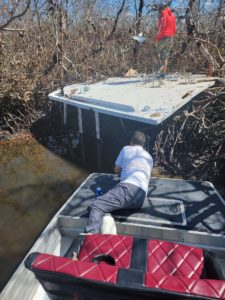 "Unfortunately, my dad did not have any insurance on his boat. With that being said, he cannot promise you another shrimp boat. Maybe this can get a ball rolling and show him how many people actually care about him and his shrimp. Hopefully this can also give my parents some type of relief on everything that has been piling up the last few months since my dad was rebuilding the winch.
"For those wondering, my dad is in good spirits and happy his family and all their houses made it through the storm. The only thing we lost was the Capt. C.J."
She has been keeping updated on the ongoing crusade to raise money for Mike to get another boat, or at least a down payment on one. Right now the Gofundme page is about $10,000 short of its $50,000 goal. So far, 344 donations have come in.
Recently Capt. Mike has been around selling Capt. C.J. memorial shirts at places like Whidden's Marina, selling hats and shirts to raise money. He's gotten a lot of response. But a good shrimp boat costs a bit more than what hats and shirts will get you. The $50,000 goal, even if reached, gets them a lot closer … but not all the way. But his family needs some help, and anything donated is appreciated (unless you know where he can get a good shrimp boat for that much, then please let him know).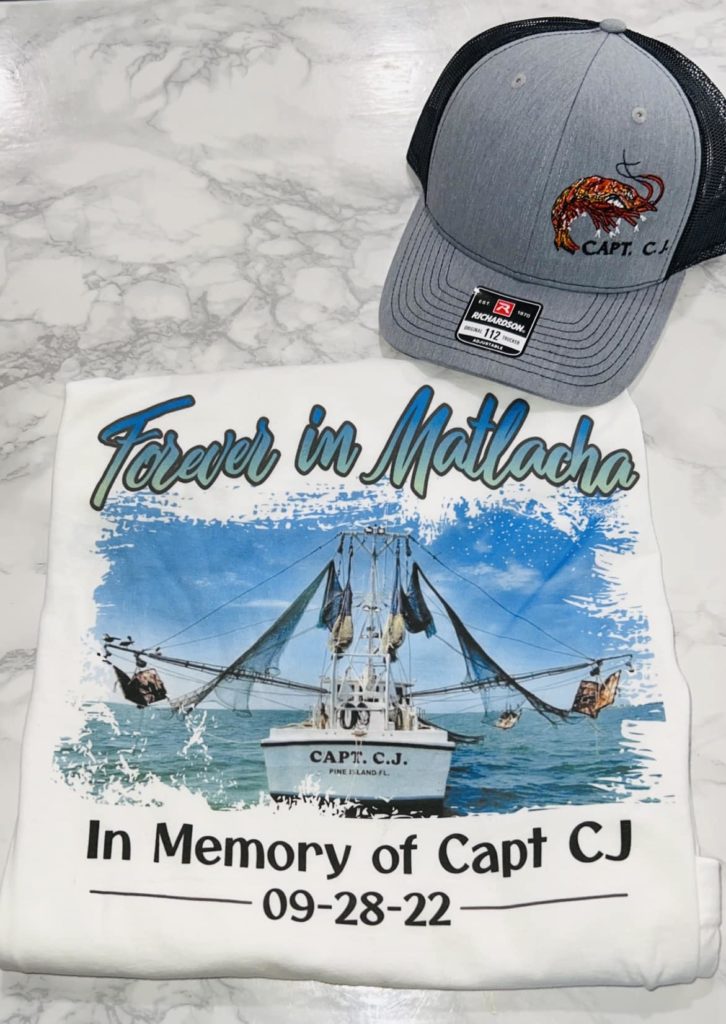 On the Capt. CJ Facebook page just before Christmas, Teresa Nielsen Bigler, Capt. Mike's wife, wrote, "People have asked when we will shrimp again so I thought I would update you … We still do not have a boat, finding the "right" boat will take time. The fish house where we kept Capt CJ was also destroyed, no docks or ice house. Matlacha Pass is still filled with debris. Although Capt CJ was not a person, she was a member of our family, we are still dealing with that loss, it hurts every time we go through Matlacha and have to look at her, forever in Matlacha."
Just recently she said, "For the time being, we are all enjoying my dad and brother being home and spending time with family. My dad is spending time with grandkids and getting to be home. Jason is also enjoying time with his wife and adorable daughter. I will forever be grateful for this lost time being made up, but I know we are all anxious to get them back out so we all can enjoy some fresh Bigler shrimp!"
A new boat would be a blessing beyond measure, but just like a good old faithful dog, Capt. C.J. will never be replaced in everyone's fond memories of Whidden's, and of Southwest Florida.
"You don't know what you got until it's gone," Teresa wrote at one point. "I know it was just a boat, but it was our boat and she did not deserve to go out this way. I trusted her for 17 years to take my husband and son out to sea and bring them home safely. She never let me down."
If you wish to donate, you can go to gofundme.com and search "Capt CJ." You can also find "Capt CJ Fresh Shrimp" on Facebook.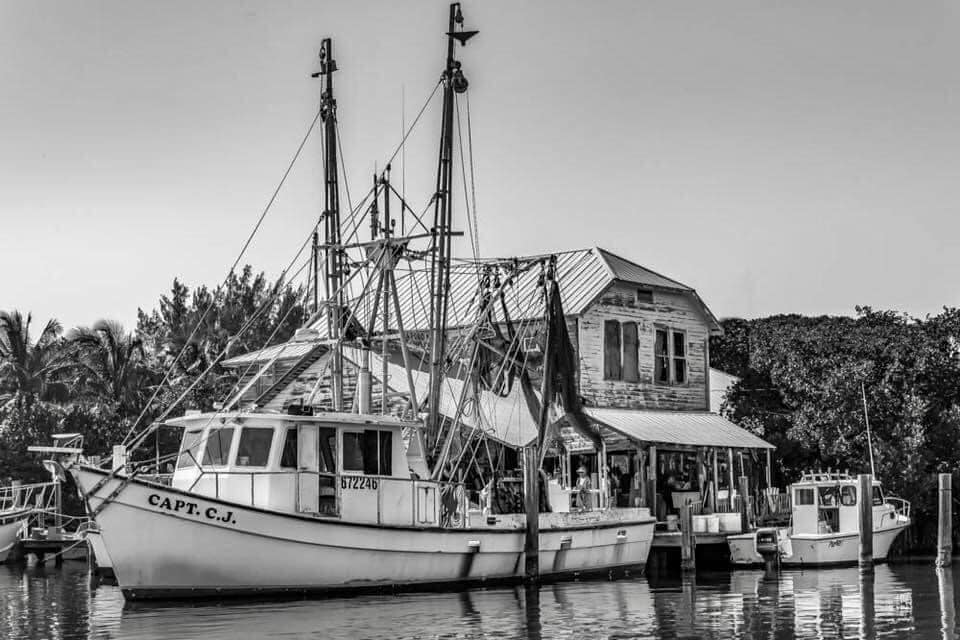 ---