BY TONYA BRAMLAGE – You've probably seen them scattered along the bike path, in parks, or in other certain public areas. A simple-looking bench with a little plaque or engraving on it with words, quotes, and the name of the person the bench is dedicated to; these are the memorial benches of Boca Grande. A memorial bench is often dedicated as a tribute to someone special who is no longer with us. However, these benches are not just for remembering a loved one that has passed. It can also be used to memorialize a momentous occasion, such as a 60th wedding anniversary. 
In fact, it would seem that, the Dutchess of Sussex is not alone when it comes to a strong desire for capturing sentiment. For Prince Harry's first Father's Day, she gave him a memorial bench. On a little plaque on the back of the bench, a poem that she wrote for him is inscribed;
This is your bench
Where you'll witness great joy.
From here you will rest
See the growth of our boy.
The Bench is intended to mark the place where they cry, celebrate, and mend together their scraped knees and broken hearts for all the years to come. 
Or perhaps, you find yourself among the few, like open technology enthusiasts Terence and Liz Eden, who are actively preserving their legacy through websites and blogs? Together, the couple designed and built the internet site Open Benches, a mapping site that allows people to upload photos of benches in their area. To date, more than 15,000 memorial benches have been added to the site, and those numbers continue to increase.
There are several notable benches on Boca Grande that serve as reminders for fellow bench sitters of the contributions made by the lives of former Gasparilla Island residents. Jack Lyons has a memorial bench that reads;"A friend to All." Lyman Randall's bench commemorates his time as board chair of The Friends of Boca Grande Community Center and heralds him as an "Outstanding Community Leader." Lolo Weir's rainbow colored bench invites friendship to all with her "Buddy Bench," brilliantly displayed right at the entrance of The Island School. In recognition of their many contributions to the community, John and Corky Subak have an honorary bench as well serving as more than just a place to sit a spell, take a load off, and reflect on Island life.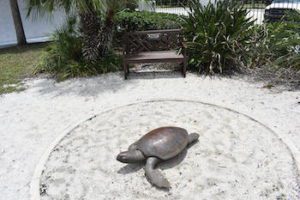 A bench that holds the engraved memory of someone who meant the world to you is one of the most special gifts you could chose to honor your loved one with.This thoughtful gift and what it stands for, are more than enough to demonstrate the relationship's powerful bonds. Everyone who walks past or sits on that bench will get a glimpse of this wonderful and remarkable person.
When considering the potential purchase of a memorial bench, it is imperative to think about what made this person unique to you. Equally valuable, is giving thoughtful consideration to highlighting  the impact or role this person had on their community.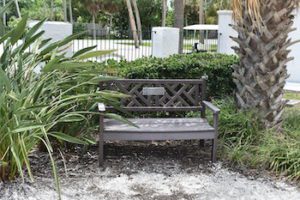 The location that you choose for the bench is monumental in every way. Ask yourself, "Is there something distinctive about the person or the occasion the bench is erected for?" When you think about that feature or characteristic, you should automatically think of this person. 
The engraving on the bench will be personal. One of the very best ways to personalize is to mention a significant feature or characteristic of the person that resonates in your mind. The most traditional way to begin a sentence on a plaque is with three simple words such as, "In Memory Of." If the bench is to memorialize an event, conveying something simple like "Celebrating 60 Wonderful Years Together" is more than sufficient to mark the occasion.
Spend some time thinking about what you would like to write. It could be advantageous to use a phrase that they liked to say frequently or maybe how they made everyone around them feel.Whatever your approach, it is best to keep your sentiments short and straightforward. Understandably, you probably have a lot you would like to express, but do not fret, the bench will be there to symbolize everything you can not express in words. 
An interesting idea to make your plaque even more personal would be to include a line or two that sounds almost as if you were having a conversation with your loved one. Perhaps there is a shared memory that either sums up your love, or something you know would make the two of you smile if your loved one was present. 
If you are commemorating a special moment or a relationship milestone, think of something significant that the two of you will never forget. Herein lies a unique opportunity to capture an experience that only the two of you shared.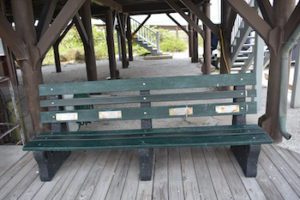 If you think about it, this bench and the memorial plaque that goes with it, will be a link that connects you and the person you are honoring and dedicating the bench to. A memorial bench offers an open invitation to every person that encounters it a chance to find not simply rest, or comfort, but perhaps the best thing of all; a new and unique view.