STAFF REPORT – On Thursday, June 17 everyone is welcome to celebrate graduating Island School students Bradford Boney Jr., David Chatham, Calan Hammond, Elizabeth Hawthorne and Lannie Whitley as they parade through town on golf carts, beginning around 11:45 a.m.
The parade will begin on 7th Street, then will turn left onto E. Railroad Avenue. It will turn right onto 5th Street, then left onto Park Avenue. It follow down Park Avenue all the way to 1st Street, then follow 1st Street around to the east until it becomes Harbor Drive, then Bayou, and will turn left again onto 5th Street. The parade will turn right onto Palm Avenue, then right onto 7th Street to complete the tour.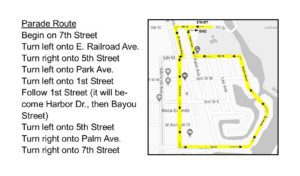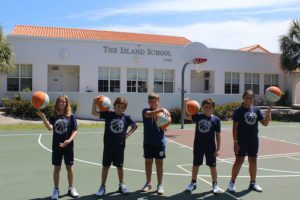 This is a big step for these five students, as they leave their small school of 60 students and integrate into a school that serves well more than 600 students. For those of us who know these students, we realize they will continue to shine and stand out … even with so many more stars in the academic sky.
This year each of the students has written a small piece about what their aspirations are for the future, as well as what their background is and advice for incoming fifth graders. Their words reflect their success at TIS, and the great start they have received in their academic career.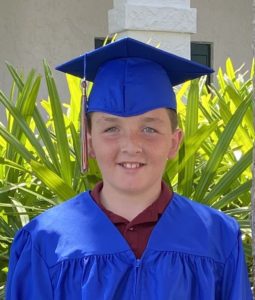 CALAN HAMMOND … 
I came to Florida from Concord, Massachusetts when I was five years old and started at The Island School in first grade. I love burgers, the book "Bat Boy," black labs, and playing baseball. I played Little League as a minor and my position was first base and pitcher, I also love to watch baseball and my favorite team is the Tampa Bay Rays. I like school because it's fun and good for my brain. I like doing math problems, experiments in science and reading in ELA. This may sound crazy, but I even loved taking the FSA test!  
I also like to travel in cars and on planes. I love boating with my grandpa and fishing. I did my first tarpon tournament on Saturday, June 5th. It was so fun but we never caught a tarpon. My family goes to New Hampshire every summer. We camp and boat. I also like to swim in the lake. 
For my future I will go to L.A. Ainger Middle School, and then move on to Lemon Bay High School. I hope I have a great time in those schools. I also have some really fun life plans. I plan to be a good golfer and either work for my grandpa, or be a ground crew worker at an airport. I plan on having an amazing life and won't get down on myself when I am frustrated. I feel that I can make these things happen. One more thing I would like to accomplish is to set goals for the things I did not achieve during fifth grade. I would like to achieve them while I'm at L.A. Ainger Middle School.
My advice for the new fifth graders is that they should try their best, do their best, be nice, be kind, and be grateful for what  they have or may receive.
DAVID CHATHAM …
I have lived in Florida my entire life, since September 11, 2009. I like it here, because I can do some of the things I love. I like to be on the water, fish with my dad, swim and tube. This brings me great joy and lots of fun!  When I'm not on the water, I like playing with my Lego sets because it gets my mind thinking in a creative way. It also keeps me off my phone!  Playing baseball and football are sports I enjoy. These sports energize me and it's fun to compete against the other teams. I love to eat french toast for breakfast and it gets me started in a great mood!  I like reading "Diary of a Minecraft Zombie," but not as much as I like playing minecraft!
The Island School has been my home since kindergarten. I like science, math and ELA. They all are entertaining subjects and I have learned so many new things at The Island School. I have lots of good memories from here. One of my favorite memories in kindergarten was when we had pioneer day and we tried molasses. It was pretty bad. Also I played my harmonica for the class and I think I did pretty good. It was so fun. I also remember one time in first grade another kid and I made a cardboard shop and sold pictures! I'm going to miss only having 60 kids in the entire school and being able to have one-on-one help from teachers. 
During the summer I hope I catch some tarpon and go knee boarding in North Carolina. I also want to work on the Carolina Skiff that my sister and I share. If I could advise future 5th graders, I would tell them to try their best and don't give up. Next year I hope I do well at L.A. Ainger Middle School and at least get one A in my classes!  When I finish high school I would like to go to NASA College and become an astronaut. If I was able to travel anywhere for a day, it would be to go to Texas and see a live rodeo, that would be wild and awesome.
LANNIE WHITLEY …
I was born in Wilmington, North Carolina, on September 10, 2009.  Then, my family moved to Florida last year. Though I miss my entire family, I was excited for this new adventure. Drawing and playing sports are two things I really love doing, and I have loved them my whole life!  
I love to draw because it helps me relax a lot. I love drawing cute little things; I also love playing soccer. I've been playing soccer for four years and I love it. When I lived in North Carolina I played for the HammerHead Sharks Team. We traveled and we won a lot. It was really fun. I look forward to playing sports next year at Sky Academy with Liz. 
Here are some of the things I also like. I like pop music, I'm really good at checkers, and I love reading and writing.
When I arrived from North Carolina last year, I wondered where I would go to school. I'm glad I landed at The Island School. I came to The Island School when I was in fifth grade. When I went on Zoom to meet my teachers and classmates for Open House, I said my favorite subject is ELA but my math teacher said, "We'll see about that!" and she was right. I love math now – it's one of my favorite subjects … but I still love ELA. It's still one of my favorite subjects. I love what my teacher does. It's fun. I love writing in our journals and the fun activities we do in ELA. 
I love that my class only has five kids in it. Some of the memories from The Island School are when we made snow in science class (that was really fun) and also when we celebrated each of our birthdays. All of the teachers are so nice here, and they try their best when teaching us. My advice to the new fifth graders is to always try your best and always think positively.
Next year I will be going to Sky Academy Middle School. We will have two P.E. classes every day. Although I will miss The Island School, I'm excited to start a new adventure in a new school. 
I want to go to college someday and study animals. I want to work at a marine hospital as a veterinarian so I can help sea animals in need. 
My dream place to visit is France, because I want to see the Eiffel Tower, the beautiful bridges and I heard that the pastries are really good there.  
LIZ HAWTHORNE …
I'm 11 years old and in fifth grade. I love painting, scrapbooking and playing with my dog, Lucy. One of my favorite things to do is go swimming. On Thursdays after school, my friend Lannie and I go to get ice cream at the Pink Pony, then we go to my house and swim. Sometimes Lucy hops right in the pool and starts swimming with us. We love it when she does that.
The Island School is one of the best schools I have ever attended. The teachers there are very nice, and they try their hardest every day. There are only five students in our class, so we do get spoiled a lot. When it was our birthday the teachers would cook or order something for our class. I had a pizza party, and what was really cool was that everyone had their own little pizza of what they wanted. 
The Island School also taught a lot of things I didn't know before. They never left one student behind. I remember when I said to Ms. Bengtson at the beginning of the year, "I can't do math." But now I feel like I know how to do every math problem. I wish The Island School was also a middle school and went through eighth grade. I would stay here and keep learning.
In the future I hope to become an interior designer: I love designing stuff. In Michigan my cousins and I have our own art studio and I love designing and decorating it. Maybe, when I'm famous, I will redecorate all the homes of my teachers.
My advice to the next class of fifth graders is to listen to the teachers and do all your homework.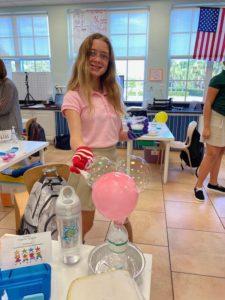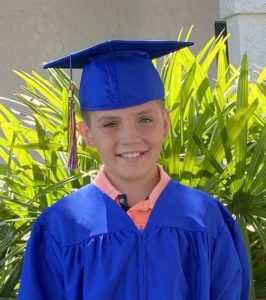 BRADFORD BONEY …
I am 11 years old and I enjoy life! I was born January 19, 2010 in Atlanta, Georgia. I love to play any sport, especially, football, soccer, basketball, golf, tennis, and fishing. But, honestly, basketball is my favorite.   
I love to play sports because it's a challenge and I'm really competitive, so I'm always ready to win. I love pizza (just cheese) and my favorite movie is "Back To The Future." I like to read the old school Archie comics and play the game, Risk. My favorite type of music is pop-rock. 
One of my hobbies is playing golf. I play in the Under Armour Junior Tour around Venice and Port Charlotte. I enjoy golf, even though it's a challenge. I also fish. I fished in the Kids Classic Tarpon Tournament; even though we didn't catch any tarpon, we had fun. My family and friends also enjoy boating on the weekends.
I started at The Island School in third grade. My first year was a good experience. Fourth grade was a unique experience because of the coronavirus. 
And then came fifth grade, my last year in elementary school. We didn't take the FSA in fourth grade, so this year we worked hard, but we got rewarded. We had birthday celebrations and free time during class. I will miss recess, since we won't have it next year. 
I even have a story of one recess. David thought he found an egg and I didn't believe him, so he let me hold it to prove me wrong. I pressed down on it to check and it blew up on me and I smelled like rotten yoke for the rest of the day. 
My favorite subject is math, it always has been. It's like I have a connection with math. My advice to the fourth graders is to work hard for your teachers. They work really hard to help you, so respect them by showing them what you learned. 
L.A. Ainger, here we come! I want to try out for the basketball team, I hope I make it. I hope to learn a lot there. 
When I grow up … no idea. All I know is that it's a long way away. 
This summer I'm going to North Carolina, at a two-week sleep away camp called Camp Ridgecrest, it's a Christian camp where you learn about God, but have fun while doing it. I'm also going to the summer camp in Boca Grande for the third year in a row. I heard it's supposed to be fun. I'm also looking forward to going to three different baseball stadiums. 
Summer and middle school, how could it get better than this?