This story is the second in a series devoted to fathers, and their importance in our lives. Highlighted will be some of the more common activities many of us remember when we think of our dads.
BY TONYA BRAMLAGE – Camaraderie may very well be the greatest benefit when you are a member of a fishing club. "Surrounding yourself with knowledgeable fisherman is a sure way to learn new skills, tips, and techniques," quips former Boca Bay Pass Club Fishing Club member Ed Reefe. Excursions abound if you are an angler who enjoys spending time with other fisherman and going on fishing trips. Whether you are a veteran or a novice, joining a fishing club provides opportunities to expand your fishing skill set. People join fishing clubs for many different reasons, but a passionate pursuit of fish is certainly the most common.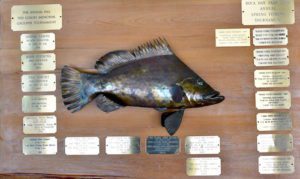 Membership at a club allows fellow anglers to meet together and share their fishing reports and stories with other members of the group. Facilitating regular meetings enables club members to become more familiar with specific locations, share resources, and additional information on various species of fish. There are clubs that are mainly competitive and focus on tournaments, while others merely gather for sport. Some clubs host guest speakers for special interest group learning, community outreach projects, and other volunteer programming while still other clubs remain purely social. The Boca Grande Fishing Club at Boca Bay Pass Club provided its members on the Island with every possible benefit from the mid 1990s until 2010.
Non-boaters will often join fishing clubs with the desire to meet a boater. "My father was the first to bring me along from Tampa to fish on a chartered boat in the backwaters of Boca Grande when I was in my teens," long time, former, award winning, now retired, fishing captain Nat Italiano recollects. For safety reasons as well as for social reasons, having a partner to fish with provides anglers with an added measure of security. Non-boating and boating anglers alike, heartily agree a shared experience is always best. Nat Italiano proved this fact when he took his turn taking his own son Nelson Italiano out to fish on the backwaters when he was only eight years old.
Undoubtedly, the club fishing experience is one that is destined to spark fond memories of days past and perhaps future spent angling together with our favorite, fellow fishing comrades. Commemorating this Father's Day with honor and respect to all the Big Bubba winners past, present and future.