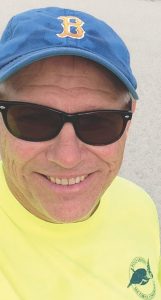 To the Editor:
As his time on our island winds down, the Boca Grande Sea Turtle Association wishes to extend a generous thank you to Dr. Jeff Humbarger for his years of dedicated service to our organization.
Dr. Humbarger brought fresh insight along with a tremendous work ethic and enthusiasm to the turtle patrol. Despite the storms, red tide, nest predations and more, we have counted on him for many years as the leader of Zone 7 (from 10th Street to the Range Light walkway).
Thank you, Dr. Humbarger. Your commitment has been deeply appreciated, and you will be missed. Wishing you the best of luck in all of your future endeavors.
With gratitude,
The Boca Grande Sea Turtle Association Board of Directors 
Grace Harvey, 
Ched McConnell, 
Nancy Lingeman, 
Sharon and Karl Knapp
Melissa Csank