■ BY SUSAN ERWIN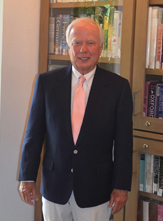 Boca Grande part-time resident Garry Carley is a native of Detroit, Michigan, and while he enjoys the peaceful island life here, he also has a sincere passion for the revitalization of his hometown. He currently serves as Chairman of Detroit Neighborhood Housing Services, Inc.
Carley met his wife, Nancy, while attending Cooley High School in Detroit. He graduated from Wayne State University Law School in Detroit and taught there for eight years while also practicing law.
"Banking was one of my fields, and I represented Standard Federal Bank, now a part of Bank of America, from the very first day, so banking was a major component of my law practice," Carley said. "My law practice at Dykema Gossett, a leading large law firm in Michigan, also included real estate and mergers and acquisitions as well as banking."
He added that he also did some non-business work, including domestic relations, family practice and estates and trusts.
"In one instance, I did what I believe to be one of the first 'En Ventre' adoptions. That is one of the exciting parts about the practice of law – you can do meaningful things to change people's lives," Carley said.
His clients wished to adopt an unborn child that they had learned about. The natural parents of the child were two young, unmarried teenagers in Michigan. Carley met with that couple and their parents for several months before the child was born, and he then petitioned the court for adoption.
"The court approved it, and the most important part to me was that both the court and the hospital allowed the adopting parents to take the child home right from the hospital. It was something I didn't normally get to do, but it felt great," he said.
Garry and Nancy have a daughter, Debbie, and a son, Jeff. And they both inherited their father's passion for pursuing a career in law.
Debbie has been a Michigan Assistant Attorney General for the past six years. Before her present position, she was a prosecutor for 25 years.
Jeff is also an attorney.
"It's really quite an honor that they both chose to follow in my career path," Carley said.
Jeff met Mary Teresa Agles while attending Albion College in Michigan. Mary Teresa's parents, Chuck and Pat Agles, owned the galleria in Boca Grande – which now serves as the current Michael Saunders Real Estate office. Jeff and Mary Teresa were married at Our Lady of Mercy Catholic Church on the island.
"Nancy and I visited the island for the first time in 1992 and stayed with the Agles in preparation for the wedding – and we just fell in love with the island," Carley said.
Jeff and Mary Teresa actually lived on the island for a year while Jeff was studying for the bar exam.
Since discovering the island, Garry and Nancy have been splitting their time between Boca Grande and Detroit. They rotate their schedule by staying here for two weeks at a time and then head back to their home in Bloomfield Hills, a suburb of Detroit, for a couple of weeks.
"We love the island, and at the same time we enjoy spending time in Detroit every few weeks with our children and grandchildren," Carley said.
Carley owns a country club in Bloomfield Hills called "The Heathers Club" – a small, 9-hole golf club with tennis courts, a swimming pool and dining facilities. The club has 1,500 members. Jeff helps run the club.
"When I am not in Boca I am almost always at the club. It's right in the heart of Bloomfield Hills. I have an office there, so it gives me a chance to interact with the members," he said.
Carley's passion for the Detroit area dates back to his childhood in the city.
"Nancy and I have always loved the city and the region a great deal. When I got out of law school in 1964, I first started working for Chrysler Corporation," Carley said. Then along came the riots of 1967. He was practicing law, teaching at Wayne State law school and volunteered to serve as appointed counsel for people involved in the riots.
After that ended, he felt he really wanted to do something to help the young people there, so he called the superintendent of the Detroit School District and asked to teach a course in a local high school called "A Respect For Law."
"It was a great opportunity for me to talk to students about legal issues and their need to live a lawful life," Carley said.
But after a while he felt he wasn't always able to connect with the students enough. "So I went to the Detroit Police Department and asked a police officer to teach the class with me. He went on after I dropped out, and he continued teaching the class for another 10 years," Carley said.
Carley continues his interest in the children of Detroit by serving for the past 20 years as the Vice President of the Coleman A. Young Foundation, which provides college scholarships to urban youth from Detroit.
Garry and Nancy went on a riverboat cruise on the Detroit River in 1989. They spotted some new apartments being built, and Garry recalled that there hadn't been many new subdivisions built in Detroit since the Truman administration. And Nancy suggested that maybe he should do something about that. Seeking another challenge, Garry started a new project.
"I called the Mayor of Detroit at the time, Coleman Young, and explained my ideas, and his assistant called me back within minutes and said the mayor was very interested in my suggestions. So I talked to the mayor that day, and he said, 'If you can manage this project, then go ahead with it'. The land was owned by the city of Detroit, and the mayor said they would donate the land for new construction."
Carley made a proposal, and it took six months to complete.
"We built a new subdivision on the donated land that included 150 single family residential homes. We had about 15 to 20 builders take over the contract and build out the subdivision," Carley said.
Standard Federal Bank assumed the risk that the homes would not sell. The builders went on to do other housing developments in the city.
Of course, then the city hit the bottom in 2008 with the Great Recession.
"And now today, Detroit has really turned around," Carley said. "Younger people have moved back to rent and buy homes in the downtown area. Thousands of housing units are being constructed. A new rail system is under construction to serve the downtown area, and the Detroit Red Wings' new hockey complex is currently under construction. Renovations are going on throughout the city's downtown area."
Carley said he appreciates spending time in Boca Grande because of the friendly people, the "somewhere in time" character of the island and the beautiful beaches.
"It's a very special, happy place; there aren't many like it."