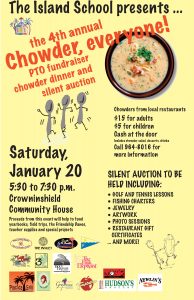 To the Editor:
This year's 4th annual Island School Chowder Dinner was another huge success! We would like to thank everyone who contributed to our PTO fundraising event. The Island School's PTO funds the school yearbook, field trips, the Friendship Dance, Field Day, classroom activities and teacher supplies.
Thank you to the following restaurants for donating such delicious chowder:
3rd Street Café
Eagle Grille & Miller's Dockside
The Outlet
The Loose Caboose
The Temptation
South Beach Bar and Grille
The Pink Elephant
Boca Bay Pass Club
Noy's Bistro and Lounge
Gasparilla Inn Beach Club
Newlin's
Placida Grill
Boca Grande Club
Fusion
Grapevine
Hudson's Grocery
Thank you to our wonderful Island School staff, parents, TIS students and volunteers who worked the event to make it such a success.
Thanks to everyone behind the scenes and (in the kitchen) Dan Nuzzi, Ian Bell, Effie Joiner, Patty Kitchen. Thank you to our community support team Paul, Eddy, & Wesley Locke, and our fabulous board members for always supporting us. Thank you, Marcy Shortuse, for helping to promote our event.
A special thank you to Susan Bowers for the beautiful decorations!
We hope to see you next year for the 5th annual Island School Chowder Dinner.
Karen Kelley
Island School paraprofessional and chowder dinner co-coordinator
Boca Grande