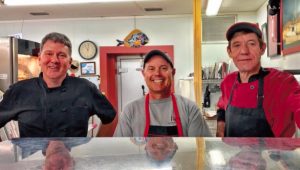 ■ BY MARCY SHORTUSE
On Tuesday, Oct. 23 if you thought you felt the earth shift a little bit, you might have been correct. Call it a change in the tectonic plates along the planet's lay lines, call it fate, call it what you will … there was a tangible change as three forces combined to create a dynamic trio at Hudson's Grocery, right here in Boca Grande. Chef Jim Morrow, Chef J.T. Turner and Chef Smitty Smith are all working together now, after decades of friendship and hijinx.
J.T. will be joining Smitty at the meat and seafood counter, but Chef Jim said he intends to steal him from time to time.
The food service industry on the island is close-knit, to say the least.
"Everyone knows each other, everyone helps each other and borrows from one another," Smitty said.
Many faces have gone from restaurant to restaurant, too.
Many people don't know Chef Jim has been out here this long, unless they were working in a kitchen. He delivered for Cisco for 18 years, and many of those years were spent delivering to Gasparilla Island.
He left that job in 2014 and started at Hudson's in 2016.
"These guys were like my customers for years," Jim said, referring to J.T. and Smitty. "I started with the company working in Captiva, but when I was transferred to Boca Grande I fell in love with the place."
The three hit it off right as soon as they got to know each other, and Jim filled in for J.T. in PJ's kitchen on the nights J.T's kids – John Paul and Abigail – were born. And on the night Chef Jim's home was struck by lightning and burned to the ground, it was J.T. who called him up, helped him find a place to stay and fed him dinner.
Ironically, it was Smitty who worked with J.T. when he was getting ready to marry Kathleen (Kruder) Turner, and it was Smitty who held the fort down when they got tied the knot.
While Smitty has been at Hudson's for 12 years, prior to that he worked as a chef at The Pink Elephant, as a general manager at South Beach, as a fill-in cook at the old Loons on a Limb for 16 years, and as a chef at The Temp.That was where he was working when he met Jim, some time around 1995.
J.T. worked for The Temp as a chef for four years, as a chef at the Boca Bay Pass Club for two years, as a chef at The Gasparilla Inn & club for two years and as the head chef of PJ's Seagrille for 23 years.
That means between the three chefs there are 118 years of experience.
Have there been any interesting stories to tell of their escapades together? Amazingly, they are pretty tight-lipped about their exploits.
"We can't tell those sorts of things," Smitty said. "Most are unmentionable. I will say we've always had fun."
As far as the three of them working together, Chef Jim said he's very excited about the prospect.
"It's very exciting, it's great; lots of potential here," he said.
Smitty agreed, and said he believes Hudson's clientele will find the three very different cooking styles of three chefs to be diverse, yet complimentary.
And what does J.T. think?
"I love it here," he said. "I know everybody, I get free shirts, and everyone's nice to me. I'm just another friendly face at Hudson's."