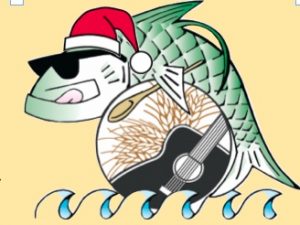 'Tis two months till 'The Taste' and all through our town,
Christmas shoppers, festive trees and Christmas cheer abound.
The shops are filled with presents for all,
And Santa is due soon to make his call,
With presents for both young and old, though …
He's heavy on seniors (so we've been told).
In the spirit of Christmas we hope you will read
About the children living near us who are truly in need.
While visions of sugar plums, drones and computers
Fill the dreams of the locals and winter commuters,
Just up the road from us is a completely different story,
Where the"jolly old elf" is not the only worry,
For parents are trying to feed their hungry children, so in need.
Obviously this is not a plea to visit Toys R Us.
Blessedly many charitable organization help out with Christmas.
Sadly, once the celebration of the birth of Jesus is past,
The hungry are still hungry and the hunger still lasts.
So looking ahead for a way to help out,
The Taste of Boca Grande Committee is giving you a shout!
We are in hopes that this Christmas greeting will get you to care
About the hunger in this country that is everywhere.
Thankfully we have wonderful, benevolent restaurants
Who have so much heart for, like Santa's reindeer,
They supply the biggest part!
Without them pulling our sleigh this evening could not exist.
So here's to our reindeer and their impressive list.
"Merry Christmas to all and to all a Good Life" from
The Committee: Nick and Helen Kaiser, Kathy Hawken, Brian Corcoran and Dawn Havens