■ BY SUE ERWIN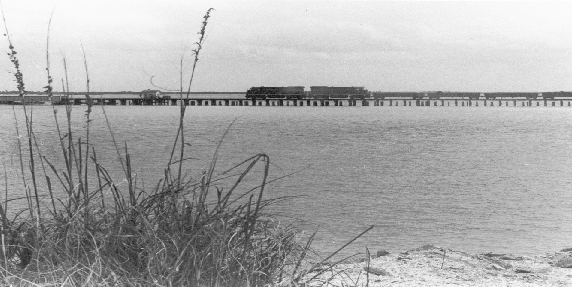 The Boca Grande Historical Society will feature guest speaker Theodore Cover at 2 p.m. on Wednesday, Jan. 25 at the Boca Grande Community Center Auditorium.
Cover is a retired mechanical engineer, a member of the Suncoast Chapter of the National Railway Historical Society and a member of RealRail, the Sarasota model railroad club. He is known to be one of the most knowledgeable men specializing in the history of the railroads in the area.
His interest in railroad history is lifelong, starting at age four in Port Clinton, Ohio.
In 2000, he moved to Sarasota and became interested in the history of Southwest Florida, focusing on the history of the railroads of the area. Cover has inside and outdoor garden models of the former Seaboard Air Line and Seaboard Coast Line, which served the Sarasota area.
"My talk will cover the period from 1885 (discovery of pebble phosphate in the Peace River Valley) to the cessation of port operations of South Boca Grande in 1979 and dismantling of the Boca Grande line by Seaboard Coast Line in 1981," Cover said. "I will also describe remaining railroad landmarks, the route of the Charlotte Harbor and the role that successor CSX plays as a real estate developer today on Gasparilla Island."
Boca Grande Historical Society Executive Director Kim Kyle said this is the first in a series of lectures that the Society hosts every year, and this is the first time Cover will be speaking to the Boca Grande community.
Historical Society member Jim Blaha was introduced to Cover through a former teaching colleague, Dr. Newman, who is a railroad history enthusiast. Blaha and Newman were on the faculty together at College of DuPage in Glen Ellyn, Illinois.
"My friend is the author of several textbooks, and he highly recommended Mr. Cover to be our featured speaker," Blaha said.
Cover is planning to bring members of the Sarasota County Preservation Alliance Historical Society and the Suncoast Chapter of the National Railway Historical Society with him to attend the lecture.
Blaha thinks it will be a natural transition that the former railway in relation to phosphate history might be the next big exhibit inside the Historical Society museum.
The current exhibit is an interactive display explaining the history of the Boca Grande Bridge. That exhibit should be available for viewing through the summer of 2017.
"I think it would be helpful to use this lecture as a good transition into the next exhibit," he said. The "All Aboard for Boca Grande" history program is free and open to all, but donations are greatly appreciated. A reception will follow the multi-media presentation, and refreshments will be available in the Woman's Club Room at the Community Center, located at the corner of First Street and Park Avenue.
The Boca Grande Historical Society is always looking for new volunteers.
For more information, call 964-1600 or visit bocagrandehistoricalsociety.com.