Island employee almost loses son to alligator
May 25, 2023
By Marcy Shortuse
When Jordan Rivera saw the line at the bathroom in the local bar called Bandito's early Sunday morning, he did what a lot of guys would do in the same circumstance – he went outside to find a place to take care of his needs. Guys are usually lucky to be able to do that, but on this night it would have been much better for this young man to just wait the line out. 
Jordan walked down to a pond behind the bar, thinking it was a quiet spot where no one else was around. He tripped on something right next to the pond and ended up falling in, where he found the one living soul that was around: a 10-1/2-foot alligator.
No one is exactly sure what happened after that, other than people heard his screams and ran down to the water's edge. One witness thought she saw him flailing, as if he was being pulled back and forth. Eventually the people who gathered there were able to pull him up out of the water and far enough up the bank to safety. One thing that saved Jordan from being taken under by this big gator was the fact that in the attack, most of his right arm was completely taken off.
Another thing that saved Jordan's life was a local man named Trent Rozier. Trent served in the U.S. Army infantry and is a purple heart recipient. He happened to be right there when all of this took place. He knew that Jordan's brachial artery was obviously compromised and that a tourniquet needed to be applied right away. He used a belt, and in doing so probably saved Jordan's life. You can bleed out in less than two minutes if this artery is severed.
Jordan was airlifted to a local trauma center, where he has had two surgeries so far. The second one was performed on Tuesday to clean out the infection and to sew the wound up, which they couldn't initially do to make sure it drained properly. The next day he was in a great amount of pain but, amazingly, still optimistic.
According to Sarah Millo, who works with Jordan's mom, Teresa Lessa, at Scarpa's Coastal, Jordan is a "glass half full" type of guy who is already trying to figure out what type of employment he can get after this new turn of events.
"He's very thankful to be alive – and he says this won't hold him back," Sarah said. "He's a fighter and he's got a very strong will, not to mention a good head on his shoulders."
Sarah set up the Gofundme page for Jordan, which hit $18,000 as of Wednesday. He does not have insurance at this time and has no idea how high the bills will go. A lot depends on how well the wound heals and how much infection is involved. Then rehabilitation will begin, which will cost even more.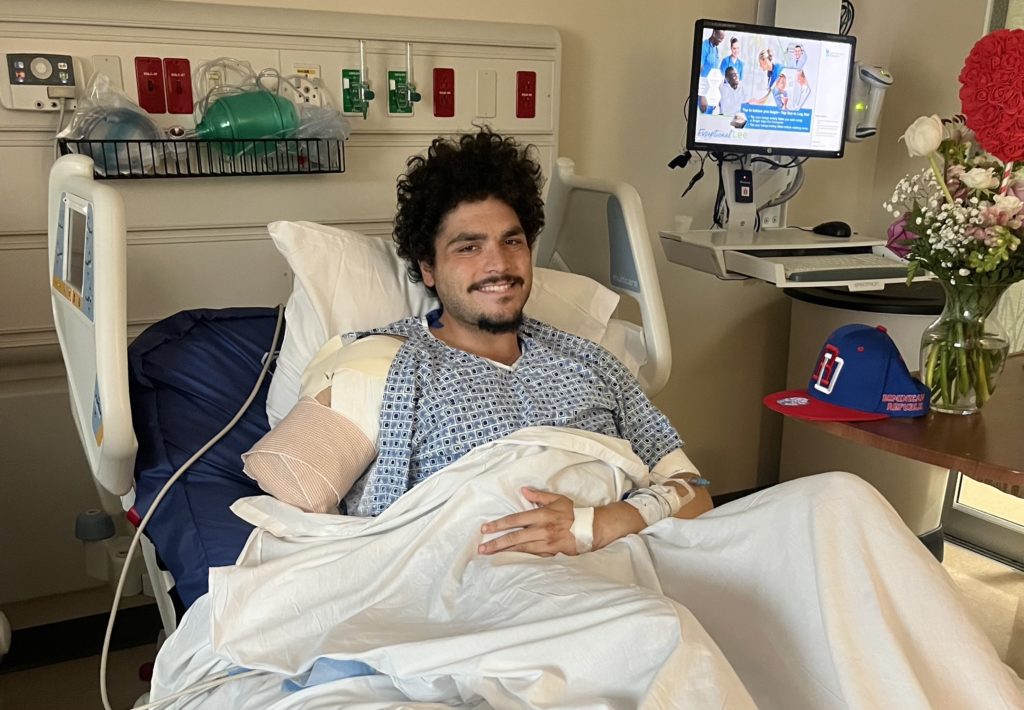 The family knows that rumors are going around about the incident, as well as the many videos that were taken. One of the bartenders at the establishment said there are at least 30 videos that were taken that night of Jordan lying beside the pond … but only one 911 call was made. That in itself is a sickening fact to most people. Jordan recalls nothing other than walking outside and tripping over something by the pond, which is quite common with traumatic injuries, so speculation and rumors are pointless.
The bottom line is, anyone who lives in Florida and is familiar at all with alligators knows that this is mating season and alligators are aggressive. For those who know the area, this location is right near the intersection of Gasparilla Road and SR 776 (also known as El Jobean Road and S. McCall Road), near McDonalds. The Lakeview Restaurant was recently torn down, which stood on the other side of the pond, where people were known to feed these alligators. Some have speculated that bar patrons might have fed the gator as well, but Bandito's does not serve food.
All it takes is one slip-up around a body of water for something bad to happen. And it did happen to a young man in his early 20s, no matter what the details were. The alligator was taken away by the Florida Fish and Wildlife Conservation Commission at about noon the next day. How did they know it was the same alligator who attacked Jordan? His arm was still in its mouth. It was euthanized, as is the practice for gators that attack people.
All the family is trying to do now is to get Jordan through the initial days after the incident, while praying for the least amount of infection possible. They also hope, one day, to be able to meet Trent as a family and thank him for taking rapid measures to save Jordan's life.
"They have already expressed their gratitude," Sarah said. "They are forever indebted to him."
The address to the gofundme.com website is gofundme.com/f/qm7g8-help-jordan-his-family?utm_campaign=p_cp+share-sheet&utm_content=undefined&utm_medium=copy_link_all&utm_source=customer&utm_term=undefined
You can also go to gofundme.com and search "Help Jordan & his family."
---