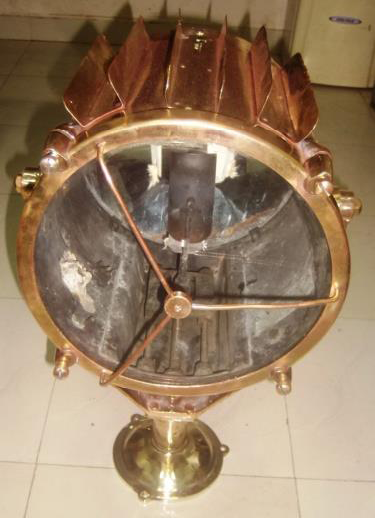 BY SHARON MCKENZIE, BARRIER ISLAND PARKS SOCIETY – While researching the original lens for Gasparilla Island Light, it came to our attention that there are several viewpoints on what was the original 1927 lens for this local beloved icon. We thought trying to locate the original lens from 1927 would not be that much of an issue. It was 1927, after all, and better records should have been kept – or so we thought. However, after speaking with the local Coast Guard, we found they did not have any records to show the original lens. They could only tell us about the current drum lens, which is not a Fresnel, made out of plastic and well, not attractive. To give our local "Coastie" friends an honest break, they are not responsible for U.S. Coast Guard archives, only for keeping the light shining, for which they have done a fine job.
So we decided to delve further into other areas of record-keeping while they did research of their own with their Coast Guard curator. We first spoke to the historian for the Florida Lighthouse Association (FLA), Neil Hurley, who said the earliest record he could find was in 1943, and it showed a fixed (not flashing) red light of 8,400 candlepower from an "RF" apparatus that was electrified. He believes "RF" meant reflector lens. He also said that records from 1948 until 1967 stayed the same.
The only change in 1948 was that the candle power was reduced to 6,000. In 1967 the light changed to occulting (meaning it was on more than off) white with red sectors. In a book by David Cipra, "Lighthouses, Lightships and the Gulf of Mexico," the author said," The light showed a red aeronautical beacon 105 feet above water." According to Hurley, the term "aeronautical beacon" was later typically used to describe searchlight-like lights. He concluded that the original lens was most likely a fixed electric spotlight made out of brass and glass similar to those made by Carlisle and Finch, with a red lens, which would have been rare.

Without any definitive answer, our search continued. According to the US Lighthouse Society site, the original lens in Lewes, Delaware, where it served as the Delaware Breakwater Rear Range, was a 3rd order Fresnel. That lens was shipped to San Francisco after the tower was disassembled. When a light was decommissioned, it was common to send the lens to where it was needed elsewhere in the United States. They also mentioned a 4th order Fresnel that was placed in the lighthouse when it was put back into service in Florida in 1932. However, they also listed that the lighthouse is owned by the State of Florida, which we all know is incorrect. So we kept searching and found another site for Lighthouse Digest. According to the article, "Megalodon's Lighthouse" in Jan/Feb issue of Lighthouse Digest, author Michael Salvarezza also believed the lens was a 4th order Fresnel.
The Fresnel lens, named after French physicist and engineer Austin-Jean Fresnel, is a multi-part lens that captures light more efficiently and allows the array of light prisms to be visible at greater distances. Fresnel lenses began to be used in 1823 and can still be found in several lighthouses in the state of Florida as well as the rest of the world. A 4th order is on the smaller size for lighthouse lenses. The 1st order is the largest and can be found in some of the Florida lighthouses on the east coast, such as Ponce Inlet and St. Augustine. Below left is a diagram of a 4th order Fresnel sent to us by the U.S. Coast Guard that could have been installed at Gasparilla Island Light.
Remember our FLA historian? Hurley also said, "Just because a record says 4th order, it does not mean a Fresnel lens; '4th order' is another way of indicating the distance from the light source to the lens plate, which in 4th order terms is 250 mm. The light did not need to shine far, only enough to mark the entrance into the channel." Although some of these records say 4th order "Fresnel," is it possible they just meant 4th order? This question plagued us, so we went back to the Coast Guard and asked what they thought. They felt strongly that it was a multi-directional 4th order Fresnel, not a fixed searchlight, but they still did not have any real proof. Their curator and sources are continuing their search, as are we, until the real lens steps forward.


NOTE: BIPS wanted to report that they now only need $220,000 for Gasparilla Island Light to get started in June. Thank you so much to all those who have contributed! If you still have not contributed and would like to, please send your check to: Light Keeper's Fund, P.O. Box 654, Boca Grande, Florida 33921. If you would like to donate by credit card, please go to barrierislandparkssociety.org or call the museum at 941-964-0060. Gifts of stock are also welcome. For more information, contact Sharon McKenzie at smckenziebips@gmail.com.