OBITUARY: George Benisek
June 22, 2023
By Boca Beacon
George John Benisek M.D., 91, passed away in his sleep under hospice care in Frankfort, Michigan on June 18, 2023.
He is preceded in death by his wife Barbara (Ellacott), brothers John and Paul, and grandson Kyle Killworth. He leaves his son George Benisek Jr. and daughters Lisa Benisek, Kay Muller (Fred), and Anne Bralver (Steve); grandchildren Gabrielle Gillis (Tim), Gates Muller, Hayden Killworth, Kenzie Greene, Carter Greene, Brady Greene, and Duke Bralver; his sister Mary Benisek (Don Walters); nieces and nephews along with devoted friends, including his beloved companion Duke.
George was a man of many talents, both professionally and personally. He was a respected radiologist, working in several Michigan hospitals including those in Grand Rapids, Hastings, Allegan, Saugatuck-Douglas and Frankfort. He taught aspiring radiologists at Michigan State University and championed the importance of early detection of breast cancer.
George and Barbara resided in Ada and Frankfort, Michigan and Boca Grande on Gasparilla Island in Florida. As a youngster growing up in Chicago, he had the opportunity to take classes at the Art Institute of Chicago.
When he was 16 years old, he drove to Yellowstone National Park where he worked in the fish hatchery raising and releasing fish. He loved to recount his adventures during summers spent at this magnificent park. George was an avid outdoorsman, naturalist and gardener. He took his family into the woods to hunt for morel mushrooms and camp in Benzie County, Michigan. He loved to invite friends and family to fish there on Crystal Lake or nearby on Lake Michigan and in Florida, on the Gulf of Mexico off Gasparilla Island.
He was a hunter who carved ornate wood plaques for his trophies. He hand built his log cabin on his property along the Betsie River in Benzonia, Michigan including the birch furniture, walnut planked floor and hand-made shake shingles for the roof.
Once retired, he spent the last two decades turning wood on a lathe, creating spectacular bowls made from foraged burl & spalted wood.
George and Barbara came to Boca Grande in 2002 and after that they were a common sight around town with their golden retriever, Duke. It was shopkeeper Kim Newlin who realized George's talent for creating wooden objects such as napkin rings and bowls and she began selling them for him in her shop.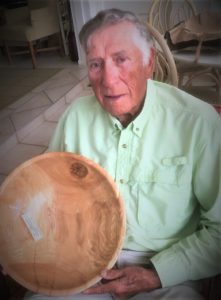 George eventually was making his wooden bowls for people by request, and donating them to local charitable organizations and functions. You might have seen his work at the Strawberry Festival auction, as he contributed his work to that function numerous times.
He had an eye for photography, taking pictures of sporting and social events while he was a student at the University of Michigan to help pay for his undergraduate and medical school courses, winning prizes for his photography at home and while stationed in Germany serving in the U.S Army. He would develop his own black and white photographs in the darkroom of his Ada home and shared the magic of the developing image with his children. Seldom was he without his Rolleiflex or Canon camera around his neck and later his digital camera in his shirt pocket. Dozens of family photo albums line his bookshelves. It was impossible to spend time with George without learning something new, interesting and detailed. His curiosity was infectious to young and old and fortunately for those around him, he was a born teacher who loved to share. A celebration of George's life will be planned at a later date. Memorial donations can be directed to Benzie Senior Resources or your local animal humane society. Arrangements by Jowett Family Funeral Home of Benzonia.
---