Boca Grande Hope For Haitians campaign starts strong with 12 homes 
February 16, 2023
By Guest Columnist
Submitted by Food for the Poor
The challenges in Haiti continue to mount, but Boca Grande Hope For Haitians is standing firm in its drive to provide 40 more homes for vulnerable families living in extreme poverty in Périgny.
Led by longtime Food For The Poor donors Ben and Louise Scott, Boca Grande Hope For Haitians already has raised funds to build 12 of the 40 homes planned for the next phase of the community development in the most remote part of Périgny, where access is difficult by car.
Haiti, a country with a long history of natural disasters and political turmoil, is facing perhaps its steepest challenge in recent decades amid rampant inflation, civil unrest, gang violence and a cholera outbreak.
"Our work has to go on," Ben Scott said. "We can't abandon the people of Haiti. They've been abandoned so often. As long as we can keep raising money and keep building, we've got to keep moving forward."
Many families in Périgny have lived in precarious conditions since 2016 when Hurricane Matthew devastated mainly the southern part of the country. The situation became even more bleak after an earthquake killed 2,000 people and left thousands homeless in August 2021.
Already, Boca Grande Hope For Haitians has generously provided funding for the first phase of 83 homes in Périgny with water units within the homes, and a community center.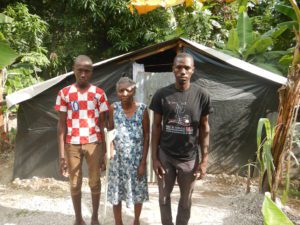 "We thank everyone for their generosity to help us get that accomplished," Ben Scott said. "For the last 13 years, you've stood with us and we're asking that you help us again because the need is great."
So far, 50 of those homes have been completed and construction is under way on the remaining 33. But only part of Périgny is benefiting from the project and the needs for sturdy homes for families in less accessible areas remains great.
Many are living in makeshift homes made from mud, discarded sheets, dried leaves and wood sticks with roofs of thatch, sheet metal or tarps, leaving them unprotected from torrential rain and the punishing sun.
Joan Smith, FFTP's Haiti project manager, said the country's lack of infrastructure hinders access to basic services.
"The rural areas are usually neglected by local government," Smith said. "There are no government or social welfare programs such as food stamps to help families in extreme poverty in their daily existence."
That's why, Smith said, the impact of donors' generosity is immeasurable.
"You are still providing security, shelter and hope which is an almost unimaginable blessing to an average family of five in Périgny," Smith said.
A community leader in Périgny said the situation has started to get better, thanks to FFTP and Boca Grande Hope For Haitians.
"However, there are many people in the community who remain living in terrible conditions," he said. "Some conditions have started to change for the better but there is still a lot left to be done."
FFTP President/CEO Ed Raine said Boca Grande Hope For Haitians has built more than 600 homes on the island nation through the charity since 2009.
"Even as crises continue to engulf the country, their dedication and perseverance continues to be a shining light for the families who are receiving the blessing of a safe, sturdy home, access to safe water and sanitation and a community center to come together." Raine said. "We are thankful and profoundly grateful for everything they're doing to help these families who are trying to live better to have a better life."
Committee members include: Chairpersons Ben and Louise Scott, the Rev. Gary Beatty, the Rev. Jerome Carosella, the Rev. Michelle Robertshaw, Henry and Ginny Bryant, George and Lois Castrucci, Patricia Chapman, John Denneen, Lou and Corie Fusz, Jim and Lynda Grant, Stephen and Susan Jansen, Tom and Nancy Lorden and Wayne and Janice Hursen.
Food For The Poor, one of the largest international relief and development organizations in the nation, does much more than feed millions of hungry children and families living in poverty primarily in 17 countries of the Caribbean and Latin America. This interdenominational Christian ministry provides emergency relief assistance, water, medicine, educational materials, homes, support for vulnerable children, care for the aged, skills training and micro-enterprise development assistance. For more information, please visit FoodForThePoor.org.
---