Swayze is back for her 33rd annual studio party in a brand-new location
December 15, 2022
By Staff Report
Carroll Swayze will hold her 33rd Annual Studio Party on Saturday, Dec. 17 from 2 to 10 p.m. at 201 Greencove Rd., Venice. Everyone is invited. 
This is Carroll's annual holiday extravaganza and "once a year" art sale, but this year the location of the party is at the new Carroll Swayze Studio
There will be holiday goodies, drinks, Swayze paintings, Rich Fizer hand- blown glass and unique holiday gifts. Guests can compete in the 8th Annual Soup Cookoff, where creativity in the kitchen blends with art in the studio.
Each year guests who love to cook bring crockpots full of their best soup recipes to share with the crowd and compete to win one of the coveted "Golden Spoon Awards" made by gaffer Rich Fizer.
All soups must be in the kitchen by 6:30 p.m. to enter the competition.
Swayze is well known for her colorful acrylic paintings of fish and sea life. Her work is in public and private collections worldwide and she lived and painted in her popular Englewood studio for over 45 years.
The new Venice studio is not far from the original one, but it was a huge move for her.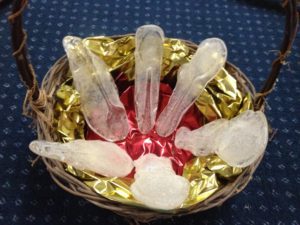 "As an artist," Swayze said, "one of the requirements for making art is a calm, private space to let the creativity flow freely. When development came to my neighborhood three years ago, the sounds of bulldozers and chainsaws created chaos where there was once peace, so I made the decision to move. I didn't realize what a monumental task that would be until I started the process. I'm not exactly neighborhood material – I require a lot of space; my life is noisy and I am used to being on a big piece of land with plenty of room to grow and play."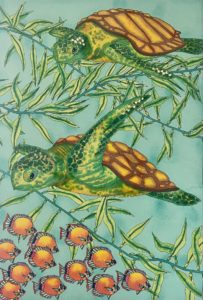 Swayze's hunt for her new studio took her far and wide. Her first destination was the waterfront in Cape Haze but when the deal fell through, she considered leaving the area and moving to the island of Cedar Key. After some serious soul-searching, Carroll realized that she couldn't leave the community where she has spent most of her life and started looking locally in the Englewood, Boca Grande and Venice area.
"The new Carroll Swayze Studio is beautiful, with 4 ½ acres of palm trees and fruit trees with a garden, a natural pond and even a very cool treehouse. It's perfect for me and I'm very happy here," Carroll said.
For directions and more information please call Carroll Swayze at (941) 266-6434.
---