Nope, it's not a coconut
April 27, 2023
By Marcy Shortuse
Island beachgoer finds something a bit unusual
Here's something that doesn't happen every day. It was on Tuesday last week that Artist Lisa McQueen was kicked back at her favorite beach spot, watching the dolphins play and the waves roll in. The Port Charlotte resident comes here frequently, sometimes to relax, sometimes to sell her metalwork art at shows, sometimes to do some beachcombing.
The latter was not on her mind that Tuesday, but something in the waves caught her eye. The item was so intriguing, it made her get up and wade out to see what it was.
At first she thought it was a whelk and got a little excited. She was disappointed when she started to pull it out of the water and thought it was a coconut. Then she picked it up and turned it over.
It was the dome of a human skull. A parietal bone, to be exact. Lisa knew what it was right away and was more than a little shocked. She called the Sheriff's Office, and someone came out to collect it.
Later on, detectives from Ft. Myers met with her to get a statement. It was a short one, to be sure.
"I asked them, are you sure it's from a human?" Lisa said. "They said it was. It appeared to be an older one, and it had a lot of barnacles."
She hopes one day she might find out if any DNA was extracted to find a match, but she doesn't hold out much hope.
But it certainly gives a whole new meaning to the term, "Boca finds."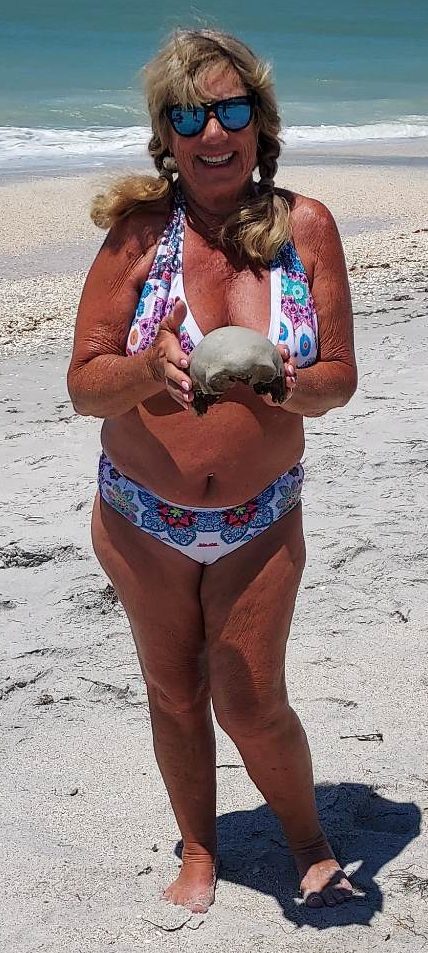 ---