Kids Classic tournament handed over from Boca Grande Charities to Chamber of Commerce
February 9, 2023
By Marcy Shortuse
When Capt. Sandy Melvin, Bill Klettke and Michael Vaughn founded the Gasparilla Island Kids Classic more than a decade ago, it was with one objective in mind – to create a fast-paced, action-packed fishing tournament for kids, while teaching them about the value of helping others.
Kids helping kids. That was what it was all about, and is to this day. Not only that, but also teaching how to be good human beings.
Now the Boca Grande Chamber of Commerce will carry on that tradition, as Melvin has handed the tournament over to the board and to Chamber Director Gary Cross to run. Cross knows how important the tournament is to Melvin and to the community, and promises to not only keep to the same premise, but to expand opportunities for more kids to fish.
"This is a unique opportunity for the chamber," Cross said. "It follows along with our scholarship program for continuing education and will complete the trinity of tournaments that we will coordinate – Ladies Day, the World's Richest and, now, the Kids Classic. We are most grateful to be given the chance to do our best work and continue to provide the kids who fish the GIKC with an experience of a lifetime."
Melvin said he is looking forward to seeing what the chamber can do with the tournament, and looks back at the years of hard work fondly.
"We had so much support from the community, it was overwhelming," he said. "Not to mention the countless hours our volunteers put in each year. And to my wife, Robin, and to my right-hand "man," Melina, I can't thank you enough for everything you have done for this tournament. It wouldn't have been half of what it was without you both."
The current board consists of Melvin, Pat Waterhouse and Ron Walker. Since the tournament began it has raised more than $300,000 for children's charities, as well as local non-profits including Moffitt Cancer Center, The Island School, The Charlotte County School System's S.T.E.M. Camp program, Easter Seals of Southwest Florida, the Dee Wheeler Scholarship Fund, The Boca Grande Historical Society, Gasparilla Island Maritime Museum, Boca Grande Fishing Guides Association and the Bonefish and Tarpon Trust.
Melvin has made sure the Kids Classic is run no differently than any other serious tournament in Boca Grande Pass. The same captains who fish the adult tournament – and these include some of the finest tarpon captains in the world – fish the kids, so it isn't unusual for a 7-year-old to catch and release a tarpon that weighs more than them in less than 10 minutes.
An important aspect of the tournament is to ensure that traditional Boca Grande tarpon fishing values are maintained as much as possible. Keeping the tarpon healthy while still enjoying the sport of catching them is vitally important to this tradition.
Another project that is currently being implemented with The Island School is a STEM promotion. Melvin found a new company called Crunch Labs that has recently come into being with the goal to foster a love for engineering in children, and creates kits that kids put together to create a toy. They send a new project every month, and each time 25 will go to the school. Grades 3 through 5 will put them together first, then disassemble them and help the younger kids put it together.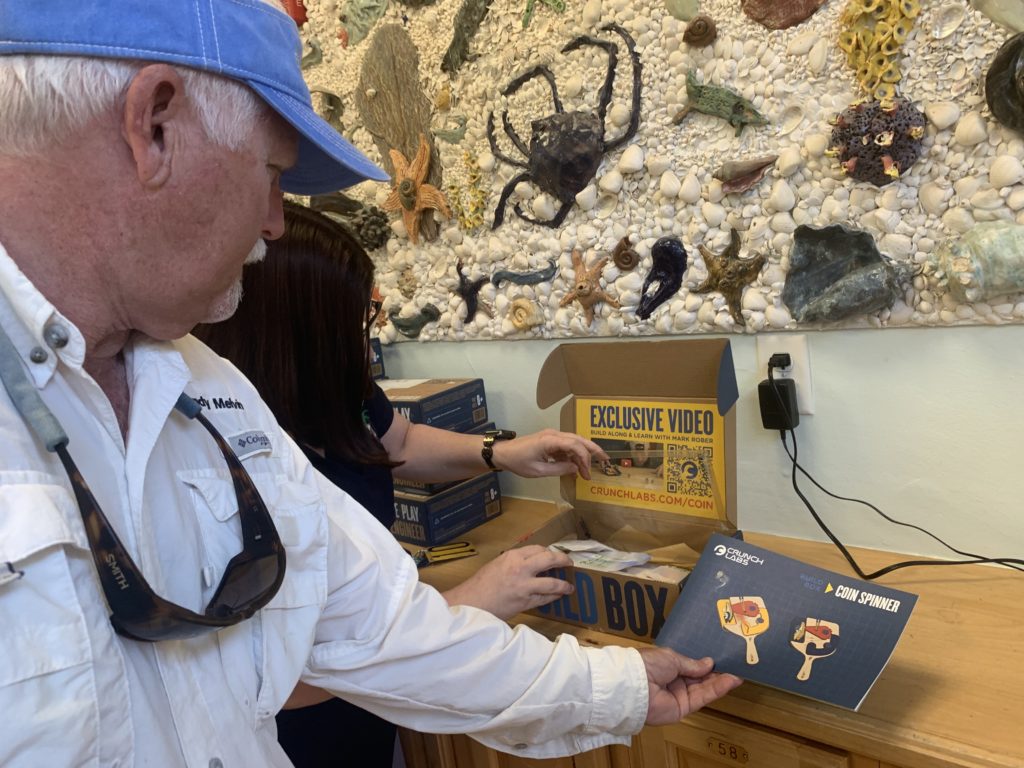 "Prior to this we made sure that local STEM classes through Lemon Bay Conservancy were taken care of financially, because it is vitally important to keep the professions of science and engineering, as well as creating new generations with a love for math, alive," said Melvin.
Boca Grande Charities, Inc. and the Chamber of Commerce will continue to work together to help make sure that local youth not only understand the joy of learning, but also the joy of giving. We will keep you updated on anything new we hear about this year's upcoming Gasparilla Island Kids Classic tarpon tournament which will be held on Saturday, June 3.
---