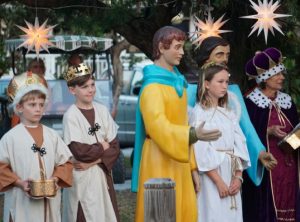 ■ BY VINNIE PORTELL
For 63 years, citizens of the Boca Grande community have gathered in the center of town to  celebrate the arrival of the Christmas season with the lighting of the town Christmas tree.
The tradition all began when three members of the Boca Grande Woman's Club decided to transplant a tree from the old Community House to the center of town just prior to the Christmas season in 1954.
This past Sunday, a few hundred Boca Grande  residents came together once again to light the tree and spend the evening enjoying carols and a message from island clergy.
"This was our biggest turnout, and it was great," said Boca Grande Woman's Club President Kathy Berry, who has helped host the event for 10 years. "You look out there and you know everyone. It's a very close and connected community, and this is the type of event that they love."
Though the tree has stood the test of time, it has weathered several frightening storm events on the   island — as have the residents of Boca Grande. Father Jerome Carosella of Our Lady of Mercy Catholic Church reminded the crowd huddled together at sunset that this tree has seen far worse days. When Hurricane Charley came through town in 2004, he said the tree was hardly left standing. This year, the island was again reminded how quickly it can all be taken away when Hurricane Irma was bearing down as a potential Category 5 on the Gulf Coast.
"I just think we have a lot of enthusiasm on the island right now and a lot of happiness," Berry said. "I think Irma has made all of us realize how much all of this means to us, so we're getting big turnouts for all of our events, which is great."
Thus, when the Woman's Club had to decide whom to honor with this year's tree lighting, Berry said the obvious choice was the Boca Grande Fire Department.
From going door-to-door and warning residents and assisting with their evacuation, to braving the elements and checking for damage the day after the storm, their efforts stood out to the community.
Lt. Mike D'Angelo, who represented the department by lighting the tree, said that although the department doesn't need to be honored for its work, gestures such as this make the firefighters feel at home on the island.
"It's an honor to work in a community that's like this," he said. "It's just a great thing to be a part of a community, and that's what we at the Boca Grande Fire Department try to do; we try to be a part of the community and participate as much as we can. It's a very unique place. We normally do our job in the background, and we don't expect to be honored, but we appreciate it very much when people do – it makes us realize people see and notice what we do for them. It's important to the guys to know they're part of the community."
■ Photos by Julianne and Dusty