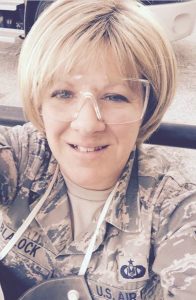 BY MARCY SHORTUSE – On the afternoon of February 3, Island School teacher Rebecca Blalock looked around her classroom of students as they packed their things to head out for the weekend. This wasn't a normal Friday, though, because it would be the last time she would see them for three months. As a Citizen Airman in the Air Force Reserves, she was headed out to Incirlik Air Force Base in Turkey, and she will be gone until spring.
Rebecca was a full-time Career Airman for 11 years and has been serving in the Reserves out of MacDill Air Force Base in Tampa for six more. On a regular basis the job requires her to keep in "fit-to-fight" shape, and she routinely has to pass fitness tests. She does her job at MacDill two straight weeks a year and one weekend a month … unless, of course, she's deployed.
Rebecca's job now is the same as it has always been, to provide support for pilots. She has been trained to inspect and maintain flight gear, and to train pilots in all aspects of their gear. She makes sure every pilot is fully prepared to fly each and every time they go up.
"My job is to deal with everything the pilot needs to help them fly a plane, or to survive if their plane goes down," she said. "That includes checking helmets, masks, G-suits and survival vests. We do prepositioning on the rafts pilots use if they have to ditch into the water, we make sure all their gear fits properly, and we train the pilots to preflight their own gear as well."
Rebecca found out a while ago that she would be leaving for Turkey, but that didn't make it any easier to leave her students or her family. It is her first deployment since she left her full-time Airman position six years ago, and even though she is very excited to see as much as she can of Turkey, the Incirlik base is locked down pretty tight.
"We're not allowed to go off base," she explained. "I would love to go and see the sights there. The Taurus Mountains, Mount Judi, which is supposed to be the place of descent for Noah's Ark, it's all right there. They have the Heaven and Hell caves there, and markets where you can buy amazing things. But it's not stable, it's not safe, it's right on the border by Syria, not too far from Aleppo."
Rebecca was deployed to Iraq for 140 days during her Career Airman service and came into very close contact with improvised explosive devices (IEDs) more than once, so active service and dangerous surroundings don't faze her as much as one might think.
Rebecca's family on both sides has been involved in all branches of the military in some way, shape or form. Her parents, her siblings, even three sets of grandparents were in the Armed Forces. She spent much of her time growing up in Germany and other parts of Europe, and she graduated from high school in Guam.
"My grandmother was in the Air Force, and I signed up 50 years to the day from when she did," she said. "I had other grandparents who were Army, but they're now doing border patrol. I have uncles who were Army and they went to either border patrol or homeland security. My entire family has been military my entire life, and I wanted an opportunity to show Jessica, my daughter, something different."
After serving 10 years as a Career Airman, she realized that if she stayed in much longer she would be there permanently. While she loved her job she felt like she needed to do something more with her life. She was in Germany at the time, so she left to come back to the United States. She bought a house and decided to try a new job, as something she had always wanted to be: A teacher.
"I knew I wanted to become a teacher, and at that point it was now or never," she said. "I may always be a Career Airman at heart, but I wanted to go to school on the post-911 GI Bill. Now I am so blessed, because not only do I get to empower the future and mentor it, I also get to protect it at the same time."
She continued.
"When I watch my pilots get back on the ground after a successful mission and give me two thumbs up, the feeling that I was a part of that on-target mission is the same feeling that happens in the classroom when I see my students suddenly 'get it.' "
Rebecca said one of her primary objectives is to instill in her students a realistic view of the military.
"It's not all the call of duty," she laughed. "Not every person you see is a crazy, fighting-to-the-death soldier. I spread love, not hate. I am going over there to help make the world a better place."
Rebecca's career choices are definitely helping to shape the thoughts of her students and friends at The Island School. She admits that many of them were nervous about her leaving, but she explained to them that it's what she is trained to do, and it's what she is good at.
"Some of my students asked if I would promise them I would come home alive. I would ask them, 'Can I promise you that every single day when I'm here?' Every day I make safe choices, and I'm pretty positive that will continue to work for me, whether I'm driving in my car here or working on a base in Turkey.
"I say my oath every three years, and I swear to do my job. I want my kids to learn that when you make a commitment, you honor it. It may not always be what you want to do at that moment, but your word is of the utmost importance. Like with teaching, this job isn't about the income, it's about the outcome. And between my two jobs there is not a thing I would change about the last 17 years."