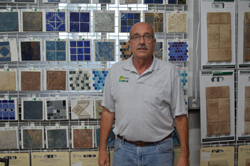 BY SUE ERWIN – Ralph DiCarlo has lived on the island with his wife, Charlene, for more than 20 years. The couple relocated from Springfield, Mass. After spending some time on the east coast of Florida, they decided they preferred the west coast because of the calmer, less populated areas.
"This side of the state is beautiful – we have been in the area for almost 30 years," Ralph said.
Ralph has owned Tropical Pools on Gasparilla Road since 2000.
"We started from scratch – we had maybe five employees to begin with," he said.
The company now has nearly 30 employees.
"We were the smallest pool company in the area at that time – now we're the largest," he said.
Ralph has one partner; John Casa, who is originally from New Hampshire.
Tropical Pools does it all: New pool construction, pool repairs and renovations – all of that and more.
"We don't do pool service because we are really too busy for that," Ralph said.
They also do pool cage construction. The company employees build and complete about 300 pools per year.
"I live on the island so I am going to try to focus more out there, because, most people prefer having a local person build or upgrade their pools," he said.
After moving to the area and before living in Boca Grande, Ralph and Charlene bought a lot on Sanibel Island and he built a house there where they lived for ten years."Then I discovered Boca Grande and thought I should have came here instead of Sanibel," he said.
But he sold that house on Sanibel and was able to make enough money to buy a lot in Boca Grande and build a house there.
It is without mention to say at this point that Ralph has a vast amount of experience in the construction, after building two homes in the area.
When he first moved here, he and a partner owned a company called Tropical Builders, but that partnership has since been dissolved.
"We built a couple of houses in Boca together. They are still around, my former partner still has the company," Ralph said.Ralph joined the Coast Guard at a very young age in 1966, and spent four years as an electronics technician
"In 1970 when I got out I went to work for a company called Digital Equipment Corporation (DEC) and I was there for probably more than 30 years."
He started out as an electronic engineer for the company and then was a sales representative. He covered the territory from Sarasota to Marco Island.
"I was the only sales representative here at that time, which was great – they were all my customers," Ralph said.
Then DEC was bought out by Compact, and at that point, the computer industry started to take a dive.
So, after building his house in Boca Grande and installing a pool, he realized it might be a good time to venture into a new business with a partner and friend who had been working in the industry for 45 years.
"It was at that point that I basically decided to retire from the computer industry and I started doing this full time," Ralph said.
Ralph said his favorite part about working in the pool business in the casual environment.
"After wearing a suit and tie for many years, it's nice to be able to wear a T-shirt and jeans to work," he joked.
Adding that at the same time, so much more responsibility comes along with the territory of owning a business and supervising many employees.
"I do enjoy being my own boss – but there's a lot more different kinds of responsibilities involved," he said. "It's also very rewarding to see that we created something that people will come to enjoy for years."
Ralph said he maintains a lot of the same customers when they move, or decide to purchase additional properties. He also gets many new customers from "word of mouth" referrals.
"We have a very strong focus on customer satisfaction – I feel that's very important to maintain a successful business," he said.
Many of his employees have been with the company for more than 10 years, stressing the importance of good employee/employer relationships.
"A couple of them have been here since we started. I try to make it where they enjoy working here and want to stay here."
Ralph said what he enjoys most about living on the island is how quiet it gets after 6 p.m.
"I could roll my bed out on the street and almost not be disturbed by anyone before waking up the next morning," he laughed and said. "It doesn't get any better than living here."
Ralph and Charlene have a daughter, Gina and a son-in-law, Frank. Gina and Frank have twins: Gabriella and Jacob. They are 14-years-old. The family lives in South Gulf Cove.
Ralph and Charlene also have a son, Anthony, who lives in Riverwood on 776 in Port Charlotte. Anthony has one daughter, Jenna, who is 13-years-old. Anthony currently works for his dad's business.
When Ralph is not working, he enjoys restoring classic cars like old Corvettes.
"My wife jokes and says 'you like those old cars more than you like me' – but that's probably helped us stay married for 48 years – too much time together can sometimes be a bad thing," Ralph said with a smile.
He has a 1963 Corvette Coupe that he has restored with modern parts.
"So it looks like the original car, but it has all new parts and equipment on it."
Currently, he is working on restoring a 1967 Roadster.
Ralph said he usually likes to keep the cars he restores, but admits when business was bad in 2008 he had to sell some of them.
"I saw it coming when it collapsed … but the good thing is, we tried to tighten things up and just maintain current equipment. We focused mainly on existing houses at that time, not new builders. I think that's how we survived it," Ralph said.
In the last few years, Ralph said the company has been working with a lot of new local builders again.
As a hobby, Ralph said he used to play the guitar, but has been so busy these past several years that he hasn't had to chance to really play much. He hopes to pick it back up again eventually, when he decides to retire.
He also enjoys traveling and he and Charlene are planning on going on a Caribbean cruise in March.
HOME: Springfield, Mass.
OCCUPATION: Owner of Tropical Pools
HOBBIES: Restoring Classic Cars, Playing Guitar
FAV BOOK: Not really
FAV TV SHOW: Anything on the History Channel or car shows
FAV MOVIE: The Godfather
PERSON: Baseball Manager Billy Martin
LIKES: Good authentic Italian food, Traveling
DISLIKES: Chinese Food