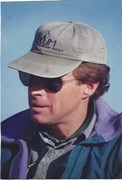 The family of Don "Postie" Post is profoundly sad to share the news that their husband, father, and grandfather died suddenly in a glider accident on Wednesday, August 29th. The loss of this vibrant man is a blow to our family, his huge circle of friends, and the community of Stowe where he lived for close to 50 years. His impact on the town and community will be felt for generations to come. Everybody knew and loved Postie.
Born to Marguerite and Robert Post on February 10, 1948, Postie grew up in Madison, New Jersey with his sister Dot. He went on to excel in engineering at Clarkson University, graduating in 1970.
Postie moved to Stowe following graduation, where he joined the ranks of elite skiers, rock climbers, and hang gliders. These activities gave him first-hand knowledge of every square inch of the Green Mountains and Worcester Range. Knowledge he would employ years later as an observer for the Vermont Audubon Society and Vermont Center for Ecostudies to ensure the well-being of Peregrine Falcons and Bicknell Thrush.
He brought his boundless energy to a wide array of business and community activities. After several years of competing on the freestyle skiing circuit, Postie ran the Mansfield Touring Center and is credited with reinvigorating the Stowe Derby. He was a hands-on entrepreneur who founded Black Magic Chimney Sweeps and Stowe Sky School (for hang gliding instruction) with long-time friend and business partner Chris Curtis. These pursuits were followed by several busi-ness ventures in the fields of energy management and conservation.
Postie was a man for all seasons. He loved windsurfing, kite boarding, scuba diving, hockey and excelled in all forms of skiing and cycling. Obsessed with road biking, Postie set out at the age of 53 to ride from Seattle to Cape Cod, a journey he accomplished in 30 days. His passion for exercise was matched only by his love of food, especially Ben and Jerry's, "the best ice cream in the world." Coffee, however, could not be offered without his infamous reply, "It's unbelievable how something that smells so good, can taste SO bad."
He will always be remembered as the first person on the dance floor, especially when Start Me Up came on. As an avid Rolling Stones fan he frequently attended their concerts, the most recent being this past June in Edinburgh.
Neighbors and friends will miss Postie dearly. He was always there with a helping hand when a truck got hung up on a rock, a tree was down, or a meadow needed brush hogging. His wealth of knowledge meant that if you were willing to endure a lengthy discourse, any question could be answered.
Overarching all of his activities and accomplishments was his love for his family. He was taken far too soon from his beloved wife Linda and children Tyler, Alexi, and Graham. He was known as "Po" to his grandchildren Greyson, Isla, and newly arrived Evie, all of whom he adored. He loved his sister Dot Gordon, niece Casey, nephew Cole, daughter-in-law Stacie Post, and son-in-law Ryan Perryman.
A celebration of Postie's life was held in Stowe. In lieu of flowers, the family will appreciate donations to Stowe Mountain Rescue. (PO Box 291, Stowe, VT 05672)