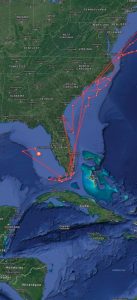 To the Editor:
A 12-foot long great white shark weighing nearly 1,700 pounds recently journeyed away from its normal stomping grounds and is swimming off the coast of Tampa Bay. Miss Costa is an immature great white shark that was pinged by OCEARCH, a nonprofit research group, on September 23, 2016 off the coast of Nantucket.
Since she was fitted with a radiofrequency identification tag, Miss Costa has traveled more than 5,600 miles, headed around the tip of the Florida peninsula, past Boca Grande and up to St. Petersburg. She started heading south from Massachusetts on September 22, 2016, right after she was tagged, and she made it to the southern tip of Florida two months later on November 23, 2016. For just a bit she started to swim into the Gulf, then for some reason promptly turned around and went north again, but this year she started her journey south on July 5 and was pinged at the southern tip of Florida on December 25. She traveled northwest for many miles before ending up in the central Gulf on January 1, then coming closer to shore within the last few days.
Since then, it has been 'pinging' with satellite equipment that monitors her travels. The shark has traveled more than 5,600 miles and has gone around the tip of Florida and was last detected Monday off Tampa Bay. Her normal rate of travel each day is 2.882 miles.
For more information, go to osearch.org.
Chris Fischer
Founding Chairman and Expedition Leader,
OCEARCH