■ BY SUE ERWIN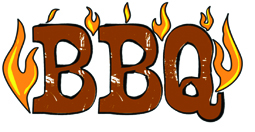 The Boca Grande Firefighters will be hosting a second barbecue fundraiser for the year on Sunday, May 1. The feast will take place at the station located at 360 East Railroad Road. The menu will consist of smoked chicken quarters and side dishes including black beans and rice, southern style collard greens and rolls. The meal will be served with a choice of soda or water. The cost is $20.
Plates will be served from noon until all the food is gone.
"We have had golf tourneys and other fundraisers that take a lot of time to plan, but the rib dinner was so successful," said Firefighter Jason "Hutch" Hutchison. "And it's almost like a meet-and-greet with the firefighters. We're going to try to do these every year from December through May."
Next year's plan also includes an appreciation dinner.
"Next year that's the plan," Hutchison said. "People are invited to just come and eat. it's our way of thanking them for their support. And we like having it on a Sunday, so people can just stop by after church and have a nice lunch, and then we also get dinner at the same time."