From the office of the Boca Grande Historical Society
October 28, 2022
By Guest Columnist
Thank you all for your patience as we deal with the aftermath of Hurricane Ian. I am happy to report that the History Center and all of our historic treasures are safe and did not acquire any storm damage! Like so many of you, the personal homes of our board and staff have suffered damages and we stand with you as we rebuild our community.
We will be regrouping over the coming weeks as we phase back to being open to the public. There will be changes to our event calendar for the coming season as we assess the availability of venues and speakers impacted by the storm, as well as taking into account the health and status of our island. Currently, all of our October programs have been canceled or rescheduled. We will be updating you through emails, website notifications, and the Boca Beacon as appropriate. We understand that there are issues with phone and internet service, but we will continue to do our best with the tools available.
There is no doubt that Ian has created an historical impact on the island and surrounding region. Once the dust settles, we would like to hear your personal accounts, see the videos and images you've taken, and record the details for our archives. Our collections hold the stories of storms past and the determination to rebuild, with Hurricane Ian being no exception. You hold a vital role in keeping our history alive, but we are compassionate about the current priorities to your home and families.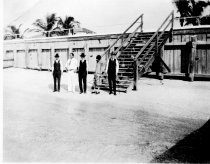 Boca Grande's hurricane history
As Hurricane Ian recently reminded us, hurricanes are a fact of life for those living near coastlines or on islands. Looking back through history, hurricanes have affected the islands of Charlotte Harbor since the coming of 19th century fishing camps and the development that followed in the 20th century.
In his book "Fisherfolk of Charlotte Harbor, Florida," Robert Edic cites studies that report 64 tropical disturbances affecting Florida between 1830 and 1900 and 88 between 1900 and 1955. The report also notes that 30 hurricanes or tropical storms have passed within a 50-mile radius of Charlotte Harbor in the same period.
---