■ STAFF REPORT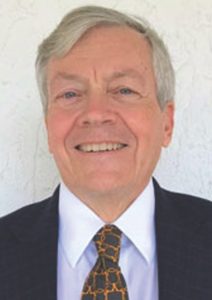 It is with great excitement that board members of the Royal Palm Players announce they have voted in a new president.
At a meeting on July 6 it was determined that Hal McCombs, a former RPP director, will succeed former president Jim Sullivan.
Hal has been very involved in RPP since he moved to Boca Grande several years ago.
A lapsed lawyer who spent his professional life in the Washington, DC area, Hal and his wife Lynne visited in Boca Grande for many years and acquired their home here in 2014. That fall, Hal made his RPP debut in the Arm Chair Theatre production of J.M. Barrie's Half and Hour. Roles in Oklahoma! (Slim), The Actor's Nightmare (George Spelvin), Hello Dolly (Ambrose Kemper) and The Ideal Husband (Robert Chiltern) followed.
This past season, he played Murray the Cop in The Odd Couple and Rusty Charlie in Guys and Dolls.
"It is going to be another wonderful year for our community theater," said RPP Executive Director Erica Ress Martin. "I, for one, am happy to announce Hal's new position."