■ BY MARCY SHORTUSE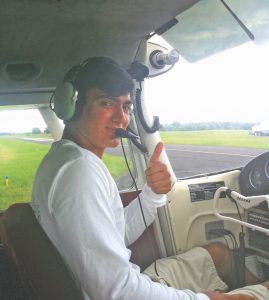 Boca Grande has been Ben Taylor's home since he was a child, but his aspirations far surpass our narrow little strip of land. At the age of 17 he recently received his private pilot's certification, and he's hoping to get his waterplane certification next.
"It's just something I've always wanted to do," he explained. "I've always wanted to fly an airplane by myself, so I set a goal for it."
Ben's parents, Jerry and Oris Taylor, gave their full blessing when a 15-year-old Ben approached them about taking flying lessons. He started with an instructor at Harborside Aviation, in a Cessna 172. While everyone around him taking lessons were in their 50s and 60s, he felt comfortable in ground school to hold his own and learn all the basics.
"I wasn't scared at all," he said, "I was just excited to get going on it."
He eventually started his flight training with Mark Futch, a very familiar name on the island that is synonymous with flying. His log book shows more than 60 hours of total flight time, and 40 to 45 of those are with Mark. After a period of dual instruction, Ben started on getting his 15 solo hours of flight time with four hours of that being at night.
The plan that began on March 18, 2015 became a reality just two weeks ago as the Port Charlotte High School senior missed school on a Friday to fly up to Winter Haven Municipal Airport. He had no problems passing his certification, and is excited to go on to the next steps he will take to further implement his flight plan, so to speak.
"There are several different ratings you can get," he said. "You can be multi-engine certified, high-performance certified, seaplane certified … then you have instrument ratings, but that won't be for a little while down the road. Right now I've got my first certification, which will open up the door to all the rest."