THIS DATE IN THE BOCA BEACON
January 12, 2023
By Marcy Shortuse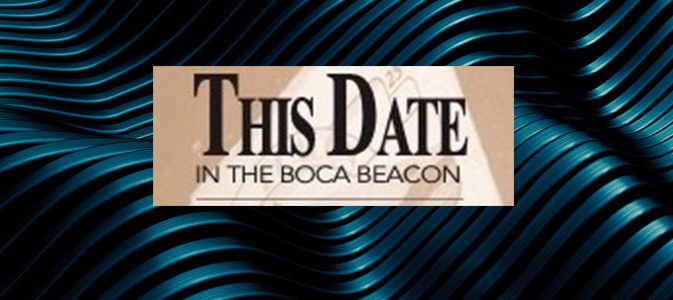 Boca Beacon backpages
FIVE YEARS AGO
The Tesla Quartet was performing at the Community Center, Mote was celebrating their five year anniversary on the island and the Three Sisters' variances debate was getting ugly.
TEN YEARS AGO
Mote Marine Laboratory opened its office on the island with a ribbon-cutting by Former First Lady Laura Bush. The television show "Pickers" was picking at Whidden's Marina.
FIFTEEN YEARS AGO
Island resident George Melissas was interviewed by the Beacon about the two shell Christmas trees he was commissioned to do at the White House.
TWENTY YEARS AGO
Jim Dixon at Eldred's said the land where the GIBA toll booths and office are was his. The state said it was theirs.
Controversy ensued.
Lee County Commissioners handed The Island School an expected victory, as they told the school it could stay at the Boca Grande Community Center.
TWENTY-FIVE YEARS AGO
Misty Nichols was chosen as the GICIA executive director. The Boca Grande Causeway was sold to GIBA.
THIRTY YEARS AGO
A Port Charlotte man had been searching for old sunken ships off the coast of the island, and thought he found one that was full of treasure.
FORTY YEARS AGO
A Fort Myers firm was contracted to evaluate the rerouting of Gulf Boulevard at the south end, where the road by the Gulf used to be. This was the beginning of the end for that thoroughfare.
---