BY T MICHELE WALKER – If you're one of the lucky ones, you meet the love of your life and you just know that they're the "one." Ray Corcoran is one of the lucky ones. He met his wife at the young age of 15 and never looked back.
"She lived in Westwood and I was in Emerson, New Jersey," explained Ray. "There was a bowling alley in Emerson, so people kind of gravitated there. There was also a park, so we were right next to each other. A friend of mine introduced us, and believe it or not, at that point I said, 'I want to marry that woman.'"
The woman was Iliene Moore, who is now his wife of 58 years. We say "woman" parenthetically, as she was 13 years old at the time. "I was 15 and Iliene was 13 years old and this year we celebrated our 58th anniversary. We have three children, John, Debra and Brian."
Ray Corcoran was born in New York City, July of 1943.
"That's probably why I love Florida and always knew that I'd live there. I was born in the heat," Ray said with a laugh. "I was born in New York City, and my parents moved to Bergen County, New Jersey. I attended St. Raymond's School when I lived in New York City and afterwards, when we moved to New Jersey, I got a degree in accounting from Bergen College in Paramus. Then I went on to attend the Academy of Advanced Traffic in New York City. I earned a diploma in Transportation and Traffic Management in 1973."
It was a family trip to Walt Disney World in 1973 that first brought the Corcoran family to Florida. "After taking Iliene and my three children to Orlando to visit Disney World, we came to Boca Grande to visit Iliene's family."
For Ray and the Corcoran family, they were sold on life in Boca Grande. "After that first visit in 1973 we decided that's probably where we would want to be. Ten years later, we bought a condominium here in Sea Oats on the North End of the island."
Iliene was born in Fort Worth, Texas and because of her father's occupation, traveled much of her childhood. Her mother. Helen Betty Johnson (maiden name Riley) was raised in Boca Grande and she has family dating back to 1908. For Iliene, her roots run deep in Boca Grande.
A graduate of Columbia University in New York City with a bachelor's and master's degree in dental hygiene, Iliene went on to teach.
As Ray explained, "Helen's grandfather and Iliene''s great-grandfather was John E. Riley who first came to Boca Grande in 1908. He was sent down by the American Agricultural Chemical Company which was affiliated with the railroad development."
"My mother went to school here and she was captain of the basketball team at the high school," said Iliene. "She drove the fire truck during the war, WWII, because all of the men were at war."
The connections to old island life don't end there. "My great-aunt was a fishing guide's wife," Iliene continued. "I had two aunts on the island and my grandmother, but they've all passed on now. One was married to Sidney, whose picture is still on the wall at The Temptation, and the other one was Harold Wilhelm. He was a fishing guide, too."
Iliene still has family in Boca Grande, a cousin named Jan Wilhelm, but she is wistful because of all the changes to the island. "There used to be a dairy on the island, and there were stables where my mother rode horses.There was a bowling alley where Fugate's is now and my grandfather was one of the original builders of the theater, where my aunt used to take the money for the movies. So, they had things to do here on the island."
Ray enjoyed time spent with his in-laws. "I always got along with my in-laws. They loved me and I loved them. To this day, I have never had an argument with my mother-in-law. She is 95."
Luck and timing have always been a friend to Ray, and the story of Iliene and Ray's first date is intriguing. "Now, you've got to keep in mind my age at the time. I was 15 years old and I didn't have a driver's license but I had friends, high school friends that did. So our first date was at Palisades Park, and I had a friend of mine who had a car and driver's license drive us."
When asked what she thought of Ray when she first laid eyes on him, Iliene demurred, "We never discussed that."
"No, we never discussed that, did we?" added Ray with a chuckle.
"We were so young," Iliene began. "He was so kind. My mother and father, well my father was with the Army Corps of Engineers and he used to travel. In high school, I was attending a different high school in a different state for ninth, tenth, 11 and 12 grades, so I just wanted to start a family and settle down. I was just tired of moving. It was very traumatic."
Ray and Iliene tied the knot just in time, because soon after they were married Iliene's family moved to Florida. "Before our first child was born they moved because her father got transferred," said Ray.
Ray had his own trucking and warehousing business in 1982. The name was A1 Delivery Service. Soon after starting the business, Iliene joined and A1 became a family enterprise.
"I went from teeth to trucks," Iliene joked.
"I really needed someone running the office for us and I mentioned it to Iliene, because even though she was teaching at Columbia University, she couldn't get tenure," Ray added.
The Corcoran's sold A1 Delivery Service in 1998 and not long after they moved to Florida. Ray was retired but was only 55 years old, so he purchased Jam's Restaurant. It was located where Sister's Restaurant is now.
"When we purchased Jam's here on the island back in 1989, it was more for a fun thing," Ray said. "I never really considered it to be a real business, although people in that business work hard and, believe me, it's a real business. I don't cook. I never did. But when I came down here, it was important that I had a place of my own to go to every day."
Jam's, a place that was famous for having the best pizza in town, was very popular. Ray built a second Jam's off the island, and eventually Ray's sons, John and Brian, came down to help run the restaurants. They also were the ones who convinced him to get out of the restaurant business and to move into real estate.
It was Brian who created The BRC Group, which stands for "Brian Raymond Corcoran."
It's clear that family comes first with Ray and Iliene, and they treasure their children and grandchildren. Brian is married to Sigrid, whom he met in New Jersey, and they have two boys, Matthew and Andrew, who are presently attending University of Florida in Gainesville. Matthew just got his bachelor's degree but he is staying there to get his masters, and Andrew will start his second year.
Ray said that when Brian was younger he studied music at Juilliard, and hoped one day to be a concert pianist. John has a degree in business from Pace University and is committed to his horses. Ray and Iliene's daughter, Debra, graduated from William and Mary, then went on to a military career. She retired as a Major in the United States Army, and was in the Military Police.
Visiting Boca Grande for the first time with a young family back in the 1970s was a bit of a culture shock.
"I remember pulling in front of The Temptation and seeing a pickup truck there with the windows and everything open, and seeing a shotgun rack in the back. I thought, 'This is home,'" laughed Ray.
The family enjoys spending recreational time together too, and they particularly enjoy traveling, golfing, boating and a little fishing from time to time. Ray also enjoys dabbling in politics.
"I've been on the board of the West Charlotte County Republican Club for over 15 years," Ray said. "I was the president of the club for six years, and am presently a member of the Republican Executive Committee of Charlotte County. In the year 2015-2016 I was the chairman of Charlotte County for Donald Trump's campaign. I just received an award from the Charlotte County Republican Party. It was the Leadership Award for the year 2021."
Ray said he feels blessed to be spending the later years of his life with Iliene, his children, grandchildren and daughter-in-law. Then he brought out a card that had a picture of his precious dog, Magic.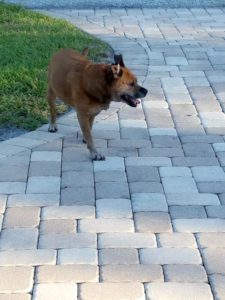 "When the children were growing up, Iliene always picked the dogs, trained the dogs and all that," Roy said. "But this one, because I no longer had the trucking business, I was involved in getting her, naming her and being with her. She was a very close part of me. Everybody knew Magic, and she just passed away this week. I fell in love with her in an instant, just like I did with Iliene."
If you're one of the lucky ones, you might meet the love of your life, have a precious family and grandchildren, and even a special dog called Magic. Ray Corcoran is one of the lucky ones.