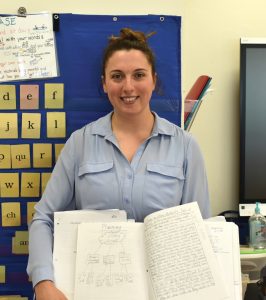 ■ BY SUE ERWIN
Dorothy Rahal has just completed her first year teaching English language arts and social studies at The Island School, and she can describe the experience in a few words.
"I absolutely love it here," she said with a smile. "Everyone works together as a team."
Dorothy was born in Cleveland, Ohio. She grew up in Glen Ellyn, Illinois.
Her father passed away when she was two, so she and her mom, Carol, moved to Glen Ellyn to be near family. They lived there until Dorothy was nine.
"She couldn't stand the cold winters any longer so we chose to move to Florida," Dorothy said. "It was a life-long dream of my dad's to live someplace tropical, so she just followed that path.
They eventually landed in Osprey, FL.
Dorothy attended New Gate Montessori School in Sarasota for a year. She also went to Chesterbrook Academy, and Sarasota Christian School for the remainder of her elementary years.
"I had gone to a Montessori school in Glen Ellyn, so I think that was factored in when my mom chose this area."
She attended Venice High School where she excelled in   volleyball, earning a full athletic scholarship to Marshall University in Huntington, West Virginia.
"I consider Huntington my second home – it's very rural, the people are fantastic," she said. "They would welcome you over for dinner after just meeting you in the grocery store. To this day, that school thrives on the community."
Dorothy said the experience changed her perspective on just about everything. Being raised by a single parent, she didn't realize how fortunate she was until she met one of her roommates who had received an academic scholarship.
"She had never seen an indoor toilet before – she came from a family of eight that had no indoor plumbing or electricity," Dorothy said. "They worked on the farm and her dad was a coal miner. It really changes your perspective on using the resources you have to the best of your ability."
Aspiring to become a teacher, she majored in education.
After graduating from college, she found a teaching job in Henderson, North Carolina and moved to Youngsville, a small town just south of Henderson Middle School where she worked.
During college, she spent many days traveling to North Carolina to compete in volleyball games and was awestruck by the beauty of the state, which is why she chose to work there.
"The mountains and the scenery are just breathtaking," she said. "The seasons are beautiful and the winter is only a few weeks long. Being able to see snow was beautiful."
She taught at the middle school for almost three years.
Wanting to be closer to her mom, Dorothy decided to move back to Florida in June of 2017.
"We were always close while I lived in North Carolina, but it was nice to be able to see her regularly again."
Dorothy was certified in secondary education, and when she moved back to Florida she became certified for elementary teaching.
She heard about a possible position vacancy at The Island School from a colleague who works for the Sarasota County School System.
"He heard they were doing some reorganizing and suggested that I call Ms. Thompson."
She had never been to Boca Grande before the day of her interview.
"I was so stunned when I crossed over the bridge … I think I am still hypnotized by it all today," she said. "I was very blessed to even have an interview here – especially transferring from another state."
Coming from schools that had very limited resources, Dorothy was shocked at the vast amount of resources available to the students at The Island School. She credits the community for their generosity in supporting the school.
She said it was actually overwhelming because she tried to use as many of the resources as possible throughout the school year as best as she could.
Dorothy teaches English Language Arts to third, fourth and fifth grade students, and third grade social studies.
She tries to incorporate the social studies assignments within the language arts class work, so it goes hand in hand with what they've already learned as far as reading and writing.
"If they are learning a new topic, it always links to what skills they're currently learning in language arts."
The cross-curriculum idea seems to work well for the students as they learn timelines along with historical events.
She said it's interesting to take the student's perspective about what they know about something, and then give them a historical event so they can use their reading skills to learn about it.
She taught 26 children at the school this year and said the majority of them are working at higher levels than the assignments at their grade levels.
Growing up, Dorothy enjoyed the book "The Outsiders" by S.E. Hinton. The book made her love the feeling of reading.
"It was the first book that made me transport myself to a different realm," she said.
She is looking forward to returning to The Island School in the fall and seeing her students again.
When she is not teaching, she coaches volleyball at the Venice YMCA. She teaches the basic skills of the sport and the kids play games with other third through eighth grade teams during the eight-week spring camps. She will also be coaching the upcoming sports summer camps at the YMCA.
Dorothy is currently engaged, and has a 15-month-old son named J.J.
"He is our precious little man," she smiled.
She and her fiance love to fish and participate in all kinds of outdoor activities.
Being new homeowners, most of their leisure time includes projects in and around their house these days. And they love to cook.
"He loves Puerto Rican food, and I am half Lebanese so I enjoy cooking different kinds of Middle Eastern food."
They pick one recipe every weekend and experiment with it.
"It's very therapeutic."
J.J. is fascinated with laundry and loves to carry the laundry to the washroom.
"Laundry is his thing – he gets very upset when we don't put our shoes away; he will pick them up and put them in the closet."
Since her mom is retired, she is a full time nanny for J.J.
Dorothy's philosophy on life can be summed up in two simple phrases.
"Whatever you do, do it with a smile" and "Show up on time, and do you job."
She said her mom told her those were key phrases her father used to say all the time.
"Success doesn't always mean wealth; it means to leave a legacy showing people that you worked hard."
Currently, her favorite book is called "1 – 2 – 3 Magic," by Thomas W. Phelan, a scientific parental guidebook that her mother handed down to her after using it.
"As a first time parent, you never really know what to do in many situations, and it has been a great guide."
As a teacher, some of the advice in the book has helped her in the classroom as well.
"Students need to understand that it's okay to make mistakes … that's how we all learn. I will be so blessed to continue working here, and also to think that my child could have an opportunity to attend this school one day. That would be amazing."