First mates share memories about Miller's Marina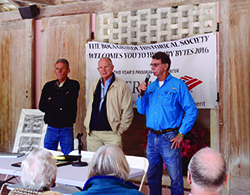 BY SUE ERWIN – Capt. Bill Miller, Capt. Ray Rodriquez and Capt. John 'Tater' Spinks entertained a crowd at the Johann Fust Community Library on Wednesday morning.
The event, "A First Mate's Look at Miller's Marina Before and After the Fire," was part of the 2016 "History Bytes" hosted by the Boca Grande Historical Society.
The trio of captains spoke about what it was like back in the day working together as teenagers on large corporate charter boats.
"Life was good. All we had to do was bait hooks and watch for the tarpon," Rodriquez said.
Spinks was working on a boat called "Sunrise," and Rodriquez was a dock boy.
"Billy Caldwell also worked with us on the boats. We had a really good time," Spinks said. "It was great. We had no real responsibilities."
Rodriquez recalled that during tarpon season, the action was so good in the pass that it was reel after reel. He said many corporate boats came to Boca Grande in the 1960s and 1970s, many from Tampa and St. Petersburg.
Rodriquez spoke about how captains would have their boats in the boatyard owned by Sam Whidden, and if they weren't ready to depart by 7 a.m., they were out of luck for the day.
"We normally fished from 9 a.m. to noon, then came back for lunch and went out again from 3 p.m. until it was dark," Rodriquez said. "We'd have lunch at the Kozy Kitchen Cafe, next to where Becky Paterson's real estate office is now."
All three captains recalled how much they learned from listening to conversations during those lunch breaks.
"The skippers would come down to Miller's in the afternoon and sit in the breezeway and talk about what bait they were using and what they were catching. As a youngster, I learned more about fishing on Boca Grande by keeping my mouth shut and my ears open," Miller said.
Spinks recalled similar memories.
"Lots of things went on at Miller's Marina. You could just stand around and listen to the many conversations going on. There wasn't much else to do. We weren't really old enough to drink – unless we lied," Spinks said.
Miller invited Boca Grande resident Bill Caldwell to share a story with the audience.
"My first tarpon experience was on my 14th birthday. I lived in St. Pete, so when I came here, I lived on the boat and was lucky enough to use the showers at Millers," Caldwell said.
Rodriquez added that Miller's had the cleanest restrooms and showers.
"Mac demanded that they were cleaned every few minutes. I was afraid to use them," he said.
Rodriquez said they mounted the tarpon for the fishermen back then, and that's how they made most of their money as first mates.
Then the fire of 1975 set the place ablaze. "The gas pumps at Miller's were right out on the road. A customer who had had several drinks hit the pumps, backed over them and drove straight into the tackle store. Blew the whole thing up," Miller said. "After that, the only charter captains at the marina were me and Nick Lopez."
All three of the speakers are still active charter captains.
U.S. Trust/Bank of America Private Wealth Management sponsored the event.
The next History Bytes, "Memories of Childhood," is planned for Wednesday, Feb. 17 at 11 a.m. at the Johann Fust Community Library. Return to yesteryear when Loretta Tucker Atha and Rick Montgomery tell their stories of growing up in Boca Grande in the 1970s.