Can you take the fountain? 
August 17, 2023
By Marcy Shortuse
Fountain created decades ago by Alzamora sister needs a home right away
Sometimes you don't realize how much has changed in a place until you find out that the things that were once so important no longer are. Such is the case with a most outstanding work of art, created decades ago by a well-known island artist, that we are having a very hard time finding a home for.
Anyone who remembers the Alzamora family probably recalls a very large and beautiful fountain created by Grace Alzamora. Featuring shells, turquoise tile and mermaids, it has been located on Tarpon Avenue throughout its existence.
Michael Moffat purchased the home of Mariana Alzamora, Grace's sister, in 2014. Just a few years ago he had the fountain moved from Grace's old house next door to his, not only to ensure its safety but primarily to enjoy its beauty. This year Moffat sold the house, and the new owner has other plans for the small courtyard of the Tarpon Street home with the old wooden gates that so many identify as one of the Alzamora sisters' homes.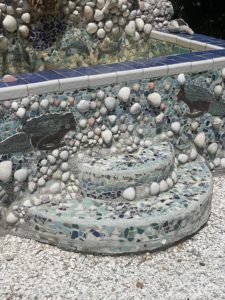 Calls have been made to several island residents and organizations, but so far no one has taken up for the fountain. With Alzamora's work already adorning the top borders of Farish Hall at The Island School, it is hoped that they might be able to find somewhere for the fountain there, but no words in the affirmative have been given yet. Several other residents are interested, but again, there's no final say as of yet.
This Boca Grande treasure is teetering on the edge of continued existence.
Grace has two daughters. One of Mariana's sons, Emil, now a very famous sculptor who lives in New York City, said he isn't sure what prompted his aunt to build the intricate fountain in the 1990s. He recalls it well, though, and was very happy to hear that enough people cared about it to try to save it.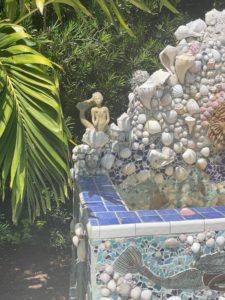 Grace, Mariana and Mariana's son Daniel all live in Spain now and could not be reached for comment.
The mother of the two sisters, Jeanne Alzamora, moved to Boca Grande in the 1970s, and her daughters moved there eventually as well. They all lived on Tarpon Street and Jeanne had an art studio in town. While all of their art was quite different, there were certain aspects that were shared – the water, the sand and shells, for instance, which are the featured aspects of the fountain.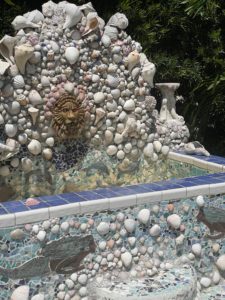 If anyone can help, call the Boca Beacon at (941) 964-2995 and ask for Marcy. We will make sure the appropriate parties are contacted to, hopefully, make a connection that will save another piece of island history that could otherwise very well be soon gone forever.
---