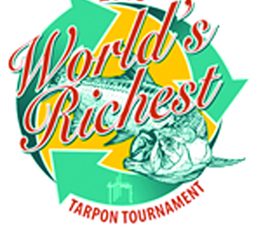 To the Editor:
The Boca Grande Area Chamber of Commerce wants to thank everyone who participated in, sponsored, donated to or volunteered for the World's Richest Tarpon Tournament 2016. We all had a great time on the water and at the street festival and art show, and I believe everyone else did, too.
Thanks need to be given to many people, particularly to our volunteers and sponsors, who selflessly gave of themselves to make this so successful. Kendra Flanagan, Wesley Locke and the rest of the crew did an amazing job holding it all together in the days before the tournament and on the streets for the festival.
Portacool out of Center, Texas really came through for us with an out-of-the-blue call asking if they could be our premier sponsors. They are a great company that does great things for small communities like ours, and they happen to have an owner who loves to tarpon fish.
We would also like to thank:
Our hat sponsors: Capt. Sandy Melvin, Brian Corcoran and Nat Italiano; our shirt sponsors: Italiano Insurance, Boca Grande Vacations; Hudson's Grocery; Paradise Cove Properties; The Boca Beacon; Conditioned Air and Tarpon Republic. Thank you to George Cera for doing a great, quick job in printing those shirts as well. Thanks to Tervis Tumbler sponsor Innovative Marine Structures; all of our Yeti cooler sponsors; everyone who contributed raffle prizes for the Captain's Party; and thanks to everyone who contributed to our team bag swag.
Thanks to Michael Vasher for handling all of our captain's and judge's shirt needs as well, particularly in such a timely manner.
Another special thank you to Daniel Godwin and Dusty Hopkins at The Boca Beacon for putting our tournament information in another fabulous edition of Tarpon Times.
Special thanks to our head judges – Sandy Bylaska, Rich Caccavale, Edd Kopp, Austin Kopp, Dixie and Robyn Hollins; Smitty Smith and Reggie Norman. A double "thank you" to Sandy B., as she also did an amazing job getting all of our raffle prizes together. And thank you to Marine Dynamics for the use of three judge boats, and to Marine Max for the use of Capt. Tom Healy and his VIP boat. Capt. Tom has captained that boat in this tournament for more than two decades now.
Thank you to Barbara Anne and Manny from Barbara Anne's Jewelry, who make the first-place rings every year as a donation, and for making an extra ring this year for the winning first mate.
Thanks to John Wells at JW Trophies of Pompano Beach for coming through again with beautiful pieces of art for the winning teams.
Thank you to the Boca Grande Fire Department for all they do every year for us, and thanks to the Lee County Sheriff's Office for the extra patrols at the festival. Thanks to Joe at the Community Center, too, for lending us tables and chairs for our guests. Thanks to the Boca Bande and Kenny Rose for providing our street festival with entertainment as well.
Thank you to Chamber Board Member Gary Cross for diligently providing us with banners and Yeti coolers in a very timely manner.
Many thanks to Chamber Board Member Nat Italiano, who ran the logistics of the street festival and the permitting (a yuck job if there ever was one).
Thank you again, Carroll Swayze, for all that you did to put together a superb Boca Grande Invitational Art Festival featuring more than 40 marine artists. Your patience was endless, your coordination was flawless.
Thank you, Cappy Joiner, president of the Boca Grande Fishing Guides Association, for staying by our side to make sure there were no issues with any of the rulings, for tweaking the rules, and for setting the times and dates for the tournament. Thanks to you and Betsy Joiner, too, for presenting the Jay Joiner Memorial Belt Buckle to the first- place captain. That moment is always one of the most memorable of every tournament.
Finally, I want to thank Chamber Board Member (and now President) Candy Brooks for running amok with me in getting everything done as perfectly as we could for this tournament. I do believe we rocked it, my friend.
See you next year on May 25 and 26 for the 2017 World's Richest Tarpon Tournament!
Marcy Shortuse
World's Richest Tarpon Tournament Director