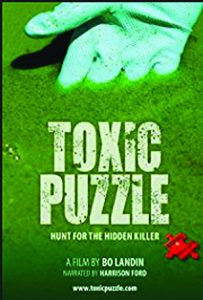 BY MARCY SHORTUSE – The Friends of Boca Grande Community Center auditorium will present a special documentary film on Thursday, Jan 18 at 5 p.m. that may prove to be pretty puzzling – and alarming – to your brain.
"Toxic Puzzle," a movie made by independent film producer Bo Landin, will be shown on that day, and a question and answer period will follow with the scientist who made the documentary possible.
The documentary shows how Paul Cox, Ph.D. and his international scientific team have made discoveries about the global presence of toxic bacteria that may be one of the causes of increased neurodegenerative diseases in vulnerable communities. Cox, who is well known for his efforts in linking environmental health to human health, spent his career searching for new medicines by studying patterns of wellness and disease among indigenous peoples. This particular documentary focuses on the ethno botany of blue-green algae, a potentially very serious problem for our brain health worldwide.
Cox earned a Ph.D. in biology from Harvard University, and is considered one of the world's leading ethno botanists, earning recognition from Time magazine as one of 11 "Heroes of Medicine." He currently serves as the executive director of the Brain Chemistry Labs in Jackson Hole, Wyoming. His research there is focused on finding and fighting the causes of neurodegenerative disease, including ALS, Parkinson's and Alzheimer's disease.
Landin has created documentary films in the fields of natural history, science and the environment for National Geographic, Discovery Channel, and BBC.
The movie has been chosen for prominent film festivals and screened around the world, and island resident Candy Shy Hooper was lucky to have had the opportunity to see the film while staying at her residence in Jackson Hole, where Cox's laboratory is located. Ironically, islander Sally Downey knows people in Jackson Hole as well, and she and Hooper were able to speak to Cox personally about his research at Brain Chemistry Labs. He agreed to give a presentation here on the island, and Sally and Candy have been working to promote the event since it was confirmed.
It is also ironic that the place where Cox's research began – in Guam – is where Candy was raised.
"This is just one piece in a big, toxic puzzle," Hooper said. "Cox studies ways to slow and, ideally, to stem neurodegenerative diseases such as Parkinson's and Alzheimer's. The movie discusses potential triggers for these diseases, including blue-green algae that have been found all over the world. We are very appreciative to the Community Center for allowing us to do this, we think this movie is a vehicle that will get people together, talking, about a very important issue."