■ BY SUE ERWIN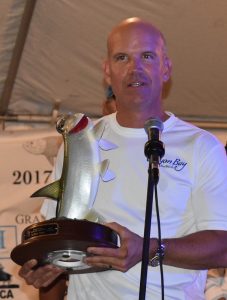 Alex Shouppe has been fishing in Boca Grande with his grandfather, Byron Shouppe, Sr., and his dad, Byron Jr., since he was strong enough to hold a fishing pole.
And years of practice reeling in tarpon in Boca Grande Pass finally paid off recently when his team took first place in the 2017 World's Richest Tarpon Tournament. Alex fished with good friends Chris Sanders, Trey Starling and Michael Moorefield on Capt. Wayne Joiner's boat, "Hey, Moma!"
"We fish the tournament together every season, and this was our lucky year," Alex said.
The team caught and released two fish and earned the top prize of $32,4000. Capt. Wayne not only took home the coveted Jay Joiner belt buckle, but also a trophy, ring, Yeti cooler and another big prize of the night – an AR15 semi-automatic rifle, specially engraved for the 2017 World's Richest Tarpon Tournament. The rifle was donated by Ram-Lin Trailers.
"It was very exciting – I was so happy and proud to win the tournament for the first time," Alex said. "And I was really excited for Wayne. It was great to see him win something that means so much … the Jay Joiner belt buckle is such a highly recognized honor. The captains who win them really relish and cherish them, and that was the first time Wayne has won it. It was just incredible to see him receive it. It meant a lot to me – he's been chasing it since 1993."
Nine releases were recorded in the one-day tournament, which is usually a two-day event. But stormy weather predictions made organizers decide to postpone Thursday fishing and make the event longer on Friday.
Alex grew up in St. Petersburg and currently lives there with his wife, Whitney. They have two children: a daughter, Lexi, 15 and a son, Steele, 11. He proposed to Whitney at the Boca Grande Club on July 27, 1996. They were married the following March near their home in St. Petersburg. Whitney likes to go fishing in Boca Grande, and so do both of the kids. Steele is becoming more and more enthralled with the sport each year. The kids have both caught tarpon, but neither has released one from the boat … yet.
"I'm confident they'll get one in the future. We go out fishing with Wayne quite a bit," he said.
Lexi will be starting her sophomore year this fall, and Steele will be going into the eighth grade.
Whitney, Lexi and Steele came to spend the day in Boca Grande for the World's Richest event. Although they didn't do any fishing, they enjoyed time on the beach and browsing around the Tarpon Festival activities.
"We had lunch together, and they gave me good luck hugs and kisses – which worked out very good for me," Alex said. "Trey's wife Bekki Starling and their kids (Jake, 9 and Joey, 11) came to Boca Grande for the tournament and they enjoyed the afternoon with my wife and kids."
Alex has been fishing with Wayne since the captain was in his 20s. Before that the Shouppe family often fished with Capt. Cappy Joiner. Alex and the guys also fished the 2017 Howl at the Moon Tarpon Tournament. The team caught and released five tarpon and tied for third place.
"It was exciting – we were right there in the hunt, but we just couldn't catch that sixth one," he said. The 2017 World's Richest winners have been fishing together for many years. The guys met during their college years and through professional networking.
All of them live in the St. Petersburg area.
"We all lead busy lives, so it's nice to be able to come out to the island and relax and have a good time at the tournaments." After graduating from high school, Alex went to the University of South Florida in Tampa and majored in business management.
He currently is an insurance executive with Brown and Brown Incorporated, a large insurance firm headquartered in Daytona Beach.
"We are in 42 states, so we are nationally known," he said. "The company was started in 1939, and we have 23 offices throughout Florida."
His title is Executive Vice President of the corporation. When Alex is not working, his main hobbies are no surprise to those who know him. He enjoys boating, fishing and spending as much time as possible with his family. He's also a big sports fan and enjoys watching College GameDay on ESPN in his spare time.
When asked to name a person he admires most in life, he named his father, Byron. "He's the best role model, and I'm lucky to have him."
Grandpa Byron and Grandma Viola became acquainted with Boca Grande through Alex's great grandfather.
"My grandparents were introduced to tarpon fishing in Captiva Pass and Redfish Pass by my great grandfather, Columbus Shouppe," he said. "After a while, my grandparents began looking for a place closer to St. Petersburg, due to the long drive to Captiva, and thus Boca Grande is where they landed. They would still fish Redfish and Captiva Pass, but spent most of their time tarpon fishing in Boca Grande Pass going forward. And I'm continuing that tradition with my family today."
Byron Jr. and his wife, Starin, live in St. Petersburg, and they've been coming to the island most of their lives.
"We shared a condo at the Boca Grande Club with some friends who were investors," Alex said. "We owned it for about ten years, so we stayed at the same place every year."
His parents still enjoy coming to Boca Grande for day trips to visit their favorite island spots. Although Byron Jr. and Starin still do some fishing, they spend more time playing golf these days.
Alex and his family are planning a trip to Barcelona this summer with fishing teammate Chris Sanders and his family.
"We're going to be chartering a powerboat, and we're planning to cruise around and explore Barcelona for ten days," he said. "This will be the first time the kids are going to experience Europe, and we are all very excited."