Adair Newman appreciates spending peaceful days in Boca Grande. She lives on the island with her daughter, Carol Stewart, and her son-in-law, Doug. Carol is a Broker/Associate at Michael Saunders Real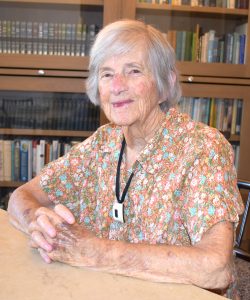 Estate.
Adair was born in Milwaukie, Oregon, just south of Portland.
When she was 19, she signed up for a cadet nursing program that the government was offering.
"The government established a special nursing program because there was a shortage during the war," Adair said. "The tuition, books and our uniforms were all free."
There was no requirement to go overseas for those who signed up for the 36-month program. There just happened to be a dire shortage of nurses in the United States at that time.
"I found the courses and the hands-on practice to be very interesting, and it was challenging work," she said.
Initially, Adair was interesting in taking classes in pediatric nursing. She also took courses in psychiatry and worked as an intern in a state hospital in Oregon during her training.
Adair recalls that the patients would participate in vocational therapy by learning how to use brooms and how to polish the floors. Some of them worked in the kitchen peeling apples and potatoes for the meals, and other patients were given materials to make their own clothing.
"It was a very moving experience to witness, because many of them didn't have any nice personal items, and they were so happy to be able to wear something new that made them feel pretty."
Adair continued to work in state hospitals for much of her career.
Some of the nurses went on to work as flight attendants, because at that time the stewardesses had to also be nurses to get the job.
Adair worked at several veterans' hospitals after she completed her education.
"That was also another very interesting experience, because the places were so large and there were a variety of different wards to work in: from vision-impaired quarters to paraplegic and psychiatric wards," she said.
Adair was very career-oriented and applied for a grant to work in a psychiatric hospital in Topeka, Kansas.
She was chosen along with eight other nurses to work in a veteran's hospital that was affiliated with the University of Pittsburgh.
Later she was hired as the educational director at a receiving hospital in Oregon, but she left that position and continued to work in various VA hospitals until retiring.
Adair met her husband Joe in Cleveland, Ohio. They were married and lived in Cleveland for nearly 50 years. They had six children: Mark, Joan, Laurie, Carol, Tom and Nancy.
Adair said Joe enjoyed hunting and fishing, so after the children were grown, she would find herself travelling to different destinations and exploring new places on her own while he went off and spent time with the men.
Adair moved to Englewood, Florida 15 years ago after Joe passed away.
"We had always planned on moving here, and I always wanted to get away from the cold up north," she said.
After suffering a stroke two years ago, Adair moved to Boca Grande to live with her daughter Carol.
"She very graciously takes care of me, and I'm so thankful for her," she said. "And Doug is a wonderful chef – it's nice to have someone cook meals for me."
Adair used to enjoy doing a lot of arts and crafts, but since her movement is somewhat limited these days, she finds music to be great therapy.
She's had an interest in music since she was about six years old. She recalls that a neighbor lady would take her to see the Portland Symphony on Sunday afternoons, and she enjoyed watching the talented musicians.
She played piano and taught private lessons in her home and also at a studio in Cleveland for many years.
Adair discovered a new hobby and started playing the harp at age 80. She found a harp made of carbon fiber, which is much easier to hold and play.
"I have a smaller one that is easier for me to practice on and a larger one that I use when I take lessons," she said.
Betsy Wagner, her harp instructor, comes out to the island once a month, and they practice playing the instrument together. Adair tries to practice at least two hours every day.
She also enjoys playing the hammered dulcimer, a percussion instrument in which the strings are typically stretched over a trapezoidal sounding board.
"It's really a fun instrument to play, and it projects some very beautiful sounds," she said. "I had wanted one for years because I enjoy playing Celtic music."
Adair has taken many musical workshops over the years to keep her skills sharp.
When she practices playing her music, she copies the songs and enlarges the notes and sometimes colors them in to help her see them more clearly.
Adair enjoys the theater. She likes to see plays by the Royal Palm Players at the Boca Grande Community Center, and she's been a volunteer at the art center on the island.
She is a world traveler and has visited England, Scotland, Russia, China and a few other countries.
"My daughter was an exchange student in Germany, so we went there one year and that was a really beautiful trip."
Adair has 16 grandchildren and seven great-grandchildren, who live all around the United States.
Even though she has some physical challenges, not much can stop this sharp lady, who is quick to share details and stories of days gone by. And she still has a keen sense of humor.
"Since my stroke, I have been stuck on one speed – and that's slow," she said. "But I have nothing but time, and I eventually get where I'm going at my own pace."
She's not able to read much these days because of vision complications, but she said that audio books are now her favorite kind of entertainment.
"The (Johann Fust) library has some wonderful items available, so I'm thankful for that. Those have been my salvation."