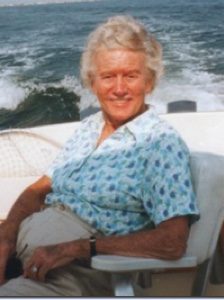 Louise DeKoven Wanamaker, of Boca Grande, Philadelphia and Northeast Harbour, Maine, widow of John R. Wanamaker, passed away peacefully on September 14, 2017 in Bar Harbor, Maine.
Born Louise deKoven Bowen in New York City in 1922, the namesake of her grandmother – the Chicago social reformer, suffragist philanthropist, and one of the creators of Acadia National Park – Mrs. Wanamaker spent her childhood summers with all her cousins at her grandmother's home in Hull's Cove, Maine, where she fondly remembered, "children stood to attention when an adult entered the room, arms by their sides." They were magical summers with dances and parties, tennis and sailing, and it was during one of those summers when she met John, her future husband, whom she married in June of 1940, immediately after graduating from Chapin School in Manhattan.
In her teenage years she was a nationally ranked tennis player. In her 30s she became a champion pairs ice dancer.
Mr. and Mrs. Wanamaker began their married life in Chestnut Hill, PA. and spent their summers in Mantoloking, N.J,, hosting memorable clam bakes on the beach for their friends and their children's friends. While her husband spent his weekdays at Wanamaker's Department Store, Mrs. Wanamaker gave her whole heart to her work at Chestnut Hill and Hahnemann Hospitals.
She was a caring, spirited, witty, vibrant, strong woman who lived her life to the fullest. The consummate sun worshipper, she enjoyed the beach, boating and fishing and the occasional round of golf with her husband.
Mrs. Wanamaker is predeceased by her loving husband of 64 years and her son, Roddy Wanamaker. She is survived by her daughter, Wendy Hendriks; her grandchildren, Barbara Wanamaker, Catharine Cox (Gary), and Ricky Hendriks; her six great-grandchildren; her caretakers Clemencia, Tony, Jennifer and Christine Santos; and her devoted companion, her dog Isabella.
A Memorial Service was held on Tuesday, Sept. 26 at 11 a.m. at The Church of The Redeemer, Pennswood and New Gulph Rds., Bryn Mawr, PA. In lieu of flowers, donations may be made to a charity of your choice.
(Jacob F. Ruth)