■ BY SUE ERWIN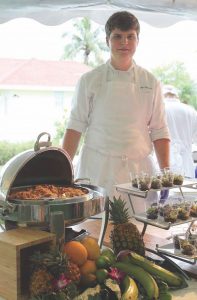 Eagle Scout Grant Reecher recently turned 18 and graduated from Lemon Bay High School in Englewood.
And he's looking forward to a bright future this fall, when he will be moving to London to study culinary arts.
Grant is a member of Boy Scout Troop 198 out of Rotonda West. He earned the rank of Eagle Scout in April of 2015.
While he was trying to decide on a project that would help earn his rank, he was introduced to a park ranger at Myakka River State Forest, who mentioned he was working on several projects and could use some help. Grant formulated a plan, and with the help of a few other scouts, he built a shelter and bench along a two-mile hiking trail at the Myakka River State Forest located just off River Road in Englewood. The project took about two months to complete.
"We started it in October and finished at the end of November of 2015," Grant said. "I was a junior when I received the rank."
Grant is the son of Jon Reecher, general manager of The Gasparilla Inn & Club since 2013.
Jon helped Grant with the planning aspect of the project and also the execution of it.
"Dad helped me with a lot of the planning and physically getting the wood to the site," Grant said. "We used 2 x 4 lumber boards and corrugated metal for the roof."
The scouts assembled the pieces for the shelter at a shop and brought them to the trail site via a trailer.
Grant led the project and said he had plenty of help from other scouts and their families.
"Kimal Lumber donated a lot of the materials and The Gasparilla Inn donated funds for supplies that we needed to buy."
Grant will be attending the International Culinary and Hospitality Program at Le Cordon Bleu in London this fall. He will be going abroad in September to participate in the one-year program.
"My dad went there, so that was a good influence in choosing the institute – it's the best culinary school in the world," Grant said.
Grant has worked at several events at The Gasparilla Inn & Club over the past year to gain some culinary work experience. He helped out at the recent B4 (beer, bourbon, beach and barbecue) event that's hosted by The Inn each year.
"They have very good chefs, and it's a fun work environment," he said.
His goal is to eventually work in a resort.
"Right now I'm looking into resorts in Colorado Springs … I think there are some good opportunities out there."