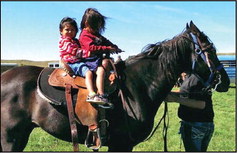 To the Editor: This year the Native Now Foundation will be offering the public an opportunity to experience a cultural exchange with American Indians and a visit to a Mayan community in Costa Maya as part of a six-day cruise aboard Royal Caribbean's newly enhanced maritime engineering marvel, Freedom of the Seas.
The Native Now Foundation is a 501(c)3 nonprofit organization founded in Boca Grande, which has been supporting cultural, educational and other grassroots projects on American Indian reservations since 2013.
In December the Native Now foundation is holding the first of what will become an annual fundraiser on Royal Caribbean Cruises to bring together any like-minded supporters who are interested in helping fund the three main initiatives Native Now will be undertaking in 2017/18.
All three projects will be geared toward helping to heal and improve living conditions on Native American Indian reservations, specifically the Standing Rock and Cheyenne River reservations located in North and South Dakota. The health and wellbeing of these populations have been negatively impacted by decades of abject poverty, racism and poor health, leading to the lowest life expectancy of any community and an at-risk youth population that is three to five times more likely to commit suicide than any other group in our country.
The three initiatives will include:
• Reviving a Hunkpapa cultural management and breeding program to bring traditional Nokota horses back to the Standing Rock reservation.
"The Nokota are descendants of horses that were confiscated from the Hunkpapa when Sitting Bull turned himself in at Fort Buford in 1881. The goal is to develop a Nokota Horse Preservation Herd that will serve as a living exhibit to the past. A place where people can come and reach back into history and touch the ancestors. A place of healing, where teachings from the horse nation will be shared." – (Jon Eagle Sr.)
• A bison co-op to create a bison economy for the Standing Rock nation and help rescue the last indigenous buffalo species from slaughter in Yellowstone National Park. In addition to being a traditional food source for the Lakota and other Native American tribes, "Yellowstone is the only place in the United States where bison have lived continuously since prehistoric times." – (NPS.gov) Recent land management decisions by the U.S. government have led to the extermination of thousands of buffalo that wander outside of Yellowstone's boundaries, bringing some of the last genetically pure bison dangerously close to extinction.
• Cultivation and funding of an indigenous seed bank and creating multiple community gardens growing fresh fruits and vegetables, promoting and supporting food sovereignty on the reservation. Almost a century of ill health has affected tribal nations across the country, and access to traditional foods coupled with a dramatic, unhealthy change indiet has led to a sharp increase in diabetes, heart disease, cancer and other debilitating and deadly diseases throughout most Native American communities. This initiative would seek to support a return to a traditional diet and a concentration on better health for communities on the reservation.
The programs onboard ship will include speaking programs by Native Now Foundation founder and host of the Red Road Radio Show Lew Hastings and Jon Eagle Sr., who is currently the tribal historic preservation officer of the Standing Rock Sioux Tribe and founder of Sung Nagi Kici Okiju: Becoming One with the Spirit of the Horse, LLC. Jon Eagle Sr. has 27 years of experience working with children, families and communities and is recognized as an international consultant on systems of care, wraparound, cultural competency, leadership and culturally based equine-assisted learning. Jon has presented at tribal, state and national conferences across the United States and Canada.
One of the ports of call will be Costa Maya, where the Native Now Foundation has secured a guided tour to a traditional Mayan village to meetand greet with the community to share stories and traditions.
Deposits to reserve your cabin on the cruise can be made here: tribestogether.com. Space will be limited to first-come, first-served. There are a limited number of cabins available, and deposits will need to be in by March 31 to secure your spot for what should be a life-changing vacation experience.
If you are unable to join the Native Now Foundation for the event but would still like to donate to the initiatives, please visit nativenowfoundation.org and go to the donate page.
For more information on the cruise, call Sally Black from VIPGroupTravelEvents.com at (570) 236-7585. For more information about the Native Now Foundation, you can reach Lew Hastings at (605) 956-3863.
Lew Hastings
Native Now Foundation
(605) 956-3863
You can find Lew on the Red Road Radio Show Monday through Friday at 11 pm EST, go to FYInation.com and click on "listen."