■ BY SUE ERWIN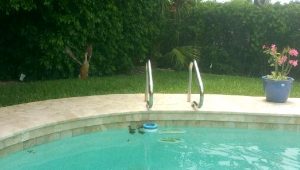 A home watch worker observed seven baby ducks that appeared to be stranded in a swimming pool at a home on Jose Gaspar Drive recently.
When Cindy Burleson noticed that the water level was too low for tiny ducks to get out and she didn't see the parent ducks around, she quickly called Blanche at the Loose Caboose, but Blanche wasn't available.
So she called the Wildlife Center of Venice and left a message asking for help with the rescue.
After an hour passed, she called a couple of friends, Gary Bingamen and Doug Danforth, who work for Safety Harbor.
The guys showed up with a net and bucket to catch the stranded little birds.
As they were wading into the pool to retrieve the babies, all of a sudden the mother duck showed up. And she was not happy.
"The mother was standing next to the pool in the background with her wings straight up in the air, and she started charging at the guys," Burleson said. "So they let them loose and we left."