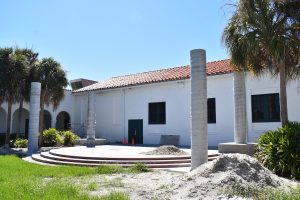 ■ BY SUE ERWIN
The installation of the new sunshade at the Boca Grande Community Center is progressing well as planned.
The Friends of Boca Grande Community Center organization invites everyone to a ribbon cutting celebration, with special guest and generous donor Lynda Jamison, who will give a vocal performance on the outdoor stage in honor of the "Grande" Opening of the Community Center Sunshade.
The event will take place at 9:30 a.m. on Friday, November 9 at the Community center lawn. There is no charge to attend.
Pull up your golf cart on the Community Center lawn and enjoy a free cup of coffee. Following the performance, stay for the Friends of Boca Grande annual meeting, that will be held in the Woman's Club Room of the Boca Grande Community Center. The meeting is open to the entire community.
Funding for the project was procured through two fundraising concerts given by Lynda Jamison in February of 2016, and the Friends of the Boca Grande Community Center organization made up the rest of the cost – which is just under $250,000.
Lee County Communications Director Betsy Clayton said the estimated date of completion for the project is by the end of October.
In a earlier interview with the Boca Beacon, Friends Executive Director Marta Howell said she is excited for everyone to see the new addition to the Community Center when it is complete, and she predicts its uses will be many and varied.
"We think there will be lots of uses for the structure," she said. "This sunshade will make all of the outdoor programs at the Community Center so much better. The Dog Show, the Gasparilla Island Kids Classic Tarpon Tournament, the Halloween Carnival, the Spring Festival, outdoor concerts, and so much more. Thank you to Lynda Jamison for spearheading the fundraising efforts, and to all of the generous donors to Friends of Boca Grande Community Center who together made this possible."