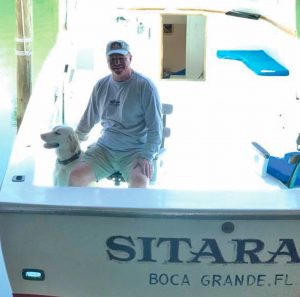 To the Editor:
If you lived in Boca Grande and fished or flew, you knew Mark Futch. I had the good fortune to be his neighbor when he and his family lived at the end of Tarpon Avenue near our house on Waterways at the end of Lee Avenue. I saw Mark on a regular basis when my real estate office at the Buyers' Broker of Boca Grande was next to Mark's office on the mezzanine above Boca Grande Outfitters at 375 Park Avenue.
Mark was curious, compassionate and most of all completely committed to everything he did. A day never passed when Mark did not have some new information about Boca Grande or Florida or Washington or the world. When he saw you he always took his time and yours to share his new information.
Mark was connected to everyone and everything on the Island. Mark did not just fish his tarpon boat, the Sitarah, he built it. He did not just fly seaplanes, he was a superb flight instructor. He was a self educated innovator who loved history and never stopped learning.
Everyone who knew Mark had at least one Mark Futch story. My favorite was about Mark's exchange with Neil Armstrong when Mark took Neil tarpon fishing.  Curiosity compelled Mark to ask Armstrong, "How did you solve the navigation problem to get to moon – loran, satnav, GPS?" Armstrong simply replied, "Mark – you can see the moon!"
Mark touched and enriched many lives in many ways. We will miss you, Mark, and we were fortunate to know you. Our sincerest condolences go to your devoted and talented wife, Kathy, your daughter Rey and your son, Matt.
Peter Sieglaff
Boca Grande