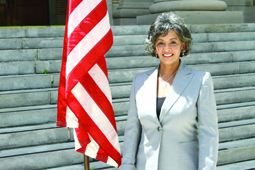 ■  BY CARMEN SALOME
When Lyndon Johnson was shepherding the landmark civil rights bills through Congress in 1964 … laws banning discrimination based on race, color, religion, gender, or national origin … he told an aide that the most important piece of legislation was yet to come. He believed his most important legacy would be the Voting Rights Act of 1965.
Johnson believed the right to vote is the ultimate power. He was right. The voting booth allows us to execute our right of self-determination, have a say in the selection of those who govern us and make important decisions, like what kind of parks we have, the safety of our streets, the size of our police force, the condition of our schools, roads, bridges and sidewalks, the wages we get to keep and the property taxes we pay.
To vote is both the right and the responsibility of all citizens and provides a peaceful, civil route to change.
I am running for Lee County Supervisor of Elections. I believe our right to vote should never be a burden, an inconvenience or a problem, and too often in Lee County it seems to have been. Inadequately equipped polling stations have forced voters to wait for hours to exercise their right to vote. Mailings from the current Supervisor of Elections office containing incorrect information caused confusion for Bonita and Estero voters. Voters arrived at polling stations only to be told their polling location was changed. With so many examples leading to decreased voter confidence, we should not be surprised with reports of dismal voter turnout and lack of participation in our local elections.
My mission as the next Supervisor of Elections goes beyond bringing passion to the job and new energy to the office. There is a need for improved transparency and accountability. Taxpayers have a right to know how their tax money is spent in that office – every dollar, every dime. No more money wasted on purchasing incompatible equipment and sending out inaccurate mailings. I plan to reach out and listen to all voters, to engage with the public regularly to maintain communication and solicit feedback. I will be accessible and, more importantly, flexible to change what is not working! Technological upgrades are also in order. My plan makes enhancements to currently underutilized websites and social media platforms. These fiscally responsible improvements will allow voters to quickly, easily, and efficiently locate important information. We will save money and help voters be more informed. I raised two children as a single mother while working my way through college and holding a full- time job. I earned a master's degree in management and have 17 years of experience in local government that includes community affairs and budgeting. I have experience with multimillion-dollar budgets and the management skills to do this job well. The next Supervisor of Elections should be someone who puts voters first. Fresh leadership with the passion and energy to do the job. Just as important, we need a Supervisor of Elections with a real plan to make this office friendlier and more efficient, a Supervisor of Elections who believes that voting should never be a burden, an inconvenience, or a problem. Carmen Salomé, candidate for Lee County Supervisor of Elections www.carmensalome.com