■ BY SUE ERWIN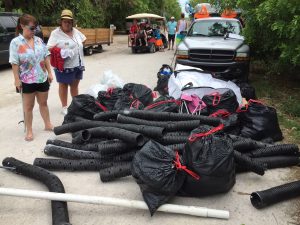 More than 30 volunteers showed up on June 3 to help clean up the north fishing pier.
They removed more than 30 bags of litter, and some other items that appeared to have been dumped.
Aaron and Katie Koher, owners of Glass Bottom Rentals, spearheaded the event. The business owners pay a rental fee to Charlotte County to use the park as a launch site for their glass-bottom kayak rental business.
Aaron said almost every morning when he brings the kayaks down to meet his clients, the area surrounding the fishing pier is filled with beer cans and soda cans and the remnants from food and snack wrappers. He usually arrives early and picks up trash around the park.
"There are trash cans there, but they're usually full," Aaron said.
Katie and Aaron were happy to see so many volunteers show up to help.
"We cleaned out two truckloads of trash and a huge amount of plastic containers," Katie said. "We recycled all the plastic through TerraCycle. The pier looks great. Every piece of trash that we could get to was removed, with the exception of some that were just way too deep in the mangroves."
Karen Blackford has been coming to Boca Grande to kayak since she moved to the area in 2000. She organized and is an active member of "Explore Manasota Key," a Facebook group with members who regularly are involved in cleanup projects in Sarasota and Charlotte counties.
Blackford and five other members from the group came to the cleanup event on the island last Saturday, and she was surprised at what she found. "
We picked up two full truckloads of trash," Blackford said. "We also found 200 feet of illegally dumped 4×6 inch black rubber drainage pipe."
Blackford said much of the litter was beer cans and bottles. And it appeared they were recently left there, since there was no rust or wear on the bottles and cans. Volunteers also found several mylar balloons.
"People have to remember that balloons blow; when they're released for celebrations or memorials, the strings eventually tangle up wildlife in the water," Blackford said.
She said she doesn't want to point any fingers or assign blame, but it appears that the dumped drainage pipes were most likely left behind by contractors who stopped to do some fishing before leaving the island and left the material behind. The pipes were dumped in the mangrove area between Uncle Henry's Marine and the roadway to the fishing pier. Blackford battled snakes, iguanas and spiders to get to the pipes. She said the group would have been able to remove even more if they could have gone farther into the brush.
Charlotte County Parks and Recreation maintains the area, since it is considered a county park. Mike Koenig, resoure coordinator for Charlotte County, said workers remove trash two to three times per week at the site.
On a positive note, Blackford said she spoke with a few families at the cleanup who were here on vacation but still wanted to spend time helping to preserve the beauty of the island.
"That was refreshing to see," she said. "They were on vacation and still wanted to help. If we don't nip the problem in the bud now, it could easily spin out of control in the future and become a much more serious problem."