■ BY MARCY SHORTUSE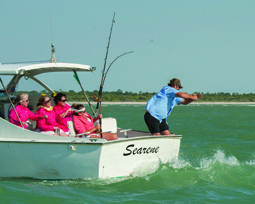 Ladies Day 2016 proved to be a great time for Capt. Lamar Joiner Jr. and his team on Searene, and the night yielded 11 releases and one fish in a boat.
The tournament, held on Saturday, May 7 from 5 to 8 p.m. in Boca Grande Pass, had a field of 36 boats this year.
The action started right away at 5:20 p.m. when Angler Lauren Rinaldo and her team hooked up on Searene, and at 5:35 p.m. angler Carol Milne had a pull down on Sea Hawk, captained by Jackie Bylaska.
The Sweetwater team with Capt. Randy Rhines, including anglers Lisa Jordan, Diane Peitz, Nikki Rhodes and Micayla Church, hooked up with a silver king at 5:39 p.m.
Searene released at 5:23 p.m. for first place, Sweetwater released their fish at 5:45 p.m. and the Sea Hawk team released theirs at 5:53 p.m. Both the Sweetwater and Sea Hawk teams were given second-place prizes.
At 6:34 p.m. the Reel Hooker ladies, including anglers Krista Kita, Linda Lake, Lizabeth Willes and Michelle Deturk and Capt. Bobby Woodard, had an unexpected visitor to the boat. Their tarpon jumped aboard when it came to the stern for the release, and that fish was not counted.
At 7:32 p.m., with 28 minutes left in the tournament, angler Lindsey Graci on Blaze hooked a tarpon, and hers was the last fish caught and released before the 8 p.m. end time. That garnered her and her teammates – Angie Mills, Jill Lewis and Mary McCarthy – third place.
The first-place individual angler award went to Team Searene, Lauren Rinaldo. Third-place individual angler award went to Team Blaze, Lindsey Graci.
This was the 26th year the Ladies Day Tarpon Tournament has been held. It was originally held on Mother's Day, as that was the only time during tarpon season that the captains could spend the day with their wives and family on the boat. Now the Boca Grande Area Chamber of Commerce coordinates the tournament.
"It was another great tournament, and it was even better because the tarpon were chewing even though the water was rough," said Chamber President Marcy Shortuse. "Everyone said the captain's party the night before was terrific, and that attitude seemed to carry over to the tournament the next day. Melissa Laterza, Amy Prestia, Kerry Hunter of Englewood Bank & Trust and Candy Brooks from our Chamber of Commerce did an amazing job planning it all out again this year, and we thank them very much for the incredible amount of hard work."
The complete hooked/released list includes:
5:20/5:23 p.m., Searene
5:39/5:45 p.m., Sweetwater
5:35/5:53 p.m., Sea Hawk
5:50/5:54 p.m., Hey, Moma!
5:52/6:02 p.m., Boca Blue
6:02/6:10 p.m., Reggae Shark
6:21/6:24 p.m., Squaw
6:34/fish in boat, Reel Hookers
6:38/6:58 p.m., Native
7:09/7:13 p.m., Tracy Lynn
7:32/7:43 p.m., Blaze