To the Editor: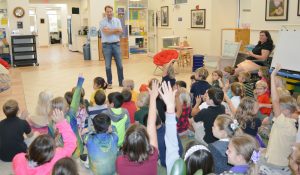 The One Big Grande Boca Book Club committee would like to thank all of the people who made last Saturday's event such an educational and enjoyable event.
The program started with the Grand Glee, who opened with some memorable food tunes, including "The Night They Invented Champagne."
They were followed by an immensely interesting talk by Michael Ruhlman, this year's author, who spoke about his book, "The Soul of a Chef."
He was joined on stage by three of Boca Grande's finest chefs to further explore insights into the making of a chef. They were Greg Foos from the Boca Grande Club, Michael Klocinski from the Pass Club and Rob Plesh from the Pink Elephant.
The program closed with Grand Glee reviving some food jingles from the distant past. Additionally we would like to thank all of our sponsors who helped make this program possible, and all who attended this free event.
Special thanks to Marta, Debbie, Jessica, and Kyle from Friends for their generous support. All profits from the event will go to support The Dee Wheeler Fund summer camp scholarships.
Barbara Edgerton, Candy Hooper, Roger Lewis, Erica Martin, Deb Nash