To the Editor,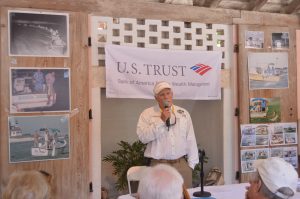 A special 'thank you' to the U.S. Trust/Bank of America team of Paul Hudson, Kim and Scott for their great sponsorship of the History Bytes 2016-17 season. It is great to have their participation at each event! Thank you, Johann Fust Library Foundation and staff, for such a lovely space every season and for your assistance in making it a successful venue.
Thanks to the Boca Beacon staff for the photos and articles each week and to Daniel for his help with researching boat photos for Sandy Melvin's presentation.
Thanks to Gary at The Barnichol Hardware for printing and enlarging photos for the programs. Many thanks to the mighty refreshment team headed by Susan Bowers, Rosemarie Blaha and Nancy Lyons for the delicious treats each week! Thank you to Jim Blaha and Marty McFadden, Karen Grace, Pat Agles and Mary Bess for being the official greeters, as well as the entire board for their support and participation in so many ways behind the scenes.
The speakers this season were once again outstanding.
Sandy Melvin "wowed" the large crowd with his talk about the tarpon boats of the Pass. The Englewood group – Tom & Annette Dignam, Esther and Mac Horton – shared many laughs and great stories of their Englewood and Boca Grande history and still have so many more to share.
Capt. Robert Johnson explained the process of the phosphate industry from arrival by train to loading the ships in Port Boca Grande, along with Alvin and Karen Delaney, who shared their stories about growing up at the Port in the 1950s and '60s. Friar Eric Hollas had the audience spellbound with the last "Byte," sharing his stories about the James J. Hill Reference Library, his team's research and travels to document historical items for the future, as well as his memories of Mr. and Mrs. Peter Ffolliott.
The stars are the fabulous audiences that come each season to enjoy and interact at each Byte. Thank you all for your enthusiasm and dedication to our programs. Please reach out to us and let us know what you would like to hear about next season – or maybe one or several of you would like to share your stories.
Remember, everyone has a great story to share! Please come out and visit our history center, sign up to volunteer and join in the fun!
Thanks one and all for another great History Byte season!
Betsy Fugate Joiner,
BGHS director & co-chair of History Bytes with Robert Johnson, historian Boca Grande