To the Editor: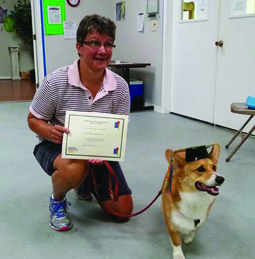 Help your dog or dogs be the best they can be by teaching them basic commands, completing a training course with them or training them to become part of a certified pet therapy team. In January, Suncoast Humane Society is hosting a variety of canine training courses at 250 Center Court, Venice, FL 34285.
The classes will be on Thursday evenings starting January 5 and ending February 9, 2017. Pre-registration is required, along with proof of rabies and other required shots. Sign up at Suncoast Humane Society, located at 6781 San Casa Drive, Englewood, or call (941) 474-7884 or visit humane.org for more information.
The cost is $100 for these 6-week sessions, and you will need to bring treats and wear sneakers. If you adopted a pet through Suncoast Humane Society, you enjoy a 20 percent discount and pay only $80. Space is limited for each class, so register early!
"Pet Manners" is a basic-level training class in which you will have fun working with your dog in a force-free way, using positive reinforcement. You will learn to use verbal cues and hand signals to teach your best friend to sit, stand, lay down, focus (watch me), and to display best manners at the front door and polite leash walking along with other behaviors. This session will meet from 6 to 7 p.m. At "Fun-gility" you and your dog will have fun learning together!
Teach your dog a new trick or two with fun tunnel work, jumps, teeter time and target work. These are just a few of the tasks that you and your dog can experience in this fast-paced class.
Classes are open to all attentive dogs that can follow directions and are good around people and other dogs. This class, from 7:15 to 8:15 p.m., is sure to send them home tired! In "Pet Therapy Preparation," you and your pet will learn everything you need to know to be prepared for pet therapy certification. Your pet brings you so much joy, you should learn how you both can share that joy with others! Whether you volunteer with Suncoast Humane Society, or on your own, it can be a rewarding way to give back to your community. This session will meet from 4:30-5:30 p.m.
Phil Snyder
Executive Director, Suncoast Humane Society Englewood