■ BY SUE ERWIN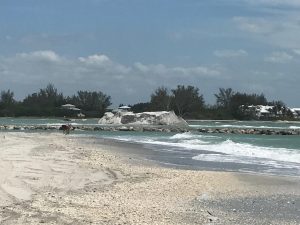 The dredging of Stump Pass continues to draw questions, but Charlotte County leaders are calling the project priceless. The dredging will connect Lemon Bay to the Gulf of Mexico.
The dredge contractor, Great Lakes Dredge and Dock, has completed over 125,000 cubic yards out of 150,000 cubic yards on the Updrift Beach Fill (Manasota Key) from north of the structure to the north end of the fill.
The rock subcontractor, Luhr Brothers, has completed the primary sections of the terminal groin from the landward end to the seaward crest, plus another 50 feet of the foundation layer, at which point the structure slopes and extends seaward into the Gulf.
The dredge was just refurbished by the manufacturer, and this project is the maiden voyage of the "new and improved" dredge.
Unfortunately, GLDD has experienced a significant amount of downtime due to major mechanical issues with the dredge. This has precluded the completion of sand placement on the Updrift Beach Fill prior to May 1.
"In coordination with the state and federal regulatory agencies, we have requested an extension to May 15 to complete the Updrift Beach Fill," said Charlotte County Public Works Public Relations Manager Tracy Doherty.
The dredge is currently shut down for repairs. From this point, all equipment and activity will be constrained from R20.5 South to the inlet (see plan chart).
"Their goal is to restart dredging as soon as repairs are made. They estimate five days of pumping to complete the fill. Basically they need to fill in and around the structure," Doherty said. "Then they will smooth-grade the beach, degrade their stockpiles and demobilize off Manasota Key."
The goal is to be 100 percent complete by May 15 on Manasota Key. Then workers will shift to the south side of the Pass and complete the dredging and fill placement on the north beach fill on Palm Island, Doherty said.
The terminal groin work is resuming this week as the seas have calmed down. All work for the terminal groin will be daylight hours only and will be conducted from the barge, Doherty added.
The official name of the Stump Pass dredging project is the "Charlotte County Erosion Control Project."
The project completes two jobs at once. The dredging connects boaters from Lemon Bay to the Gulf, and the displaced sand is used to re-nourish the surrounding beaches. Water movement in and out of the bay may even be a third benefit of the dredging.
The project is part of the Stump Pass 10-Year Beach and Inlet Management Plan. The strategy provides for continued monitoring, as required by permitting, for dredging Stump Pass that re-established the 1980 channel alignment and provided for re-nourishment of critically eroded beaches. Maintenance dredging of Stump Pass will be conducted approximately every three years.
Sand buildup isn't anything new in Stump Pass; it happens naturally. Sand simply built up faster due to the past few hurricane seasons.